Drinking beer in Barcelona and Nuremberg
A diary of some of the bars in Barcelona and Nuremberg
February 2008
Two work trips in February 2008 took me to Barcelona in Spain and Nuremberg in Germany. As usual, I found time to visit some local bars. Further down are some pictures I took in September 2008 when I returned to Barcelona on another work trip.
Sunday 10 February (Barcelona)
I arrived in Barcelona and, after dropping stuff off at the hotel, I headed for the conference centre to get my badge etc and then hit some bars in town. What I didn't expect was that they would give me a rucksack full of stuff, which I also ended up having to lug round town with me. Anyway, after getting something to eat, I strolled down Le Ramblas, which seemed remarkably similar to what it was over 20 years ago, the last time I was in Barcelona.
I headed for a bar I'd read about on the internet called Cerveceria El Vaso de Oro, which is one of the city's two brewpubs. It only brews one beer - Rubia at 7%. The bar itself was long and thin and seemed more geared to food than beer, despite ornate beer tankards making up the bulk of the decorations. It was very cramped and I couldn't get a seat, so I stood at the bar. The beermat was made of cork with the name of the bar on it. The beer came in a tall thin glass with a shaving foam head and was a lightish lager colour. I was expecting a pilsner taste but was pleasantly surprised by how bitter it was. I had quite a bit of trouble finding the place, despite having a map, but for reference the address is Balboa 6.
I didn't stay long, due to rucksack and no seat, and headed back towards the side roads of Le Ramblas were I found a bar called Temple Stone on Escudellers. It was an Irish pub with four beers available - Guiness, Murphy's, Paulaner and Heineken. I opted for the Paulaner (drinking German beer in an Irish pub in Spain). This came in at €5.40 for pint, which turned out to be not as dear as I thought (read on).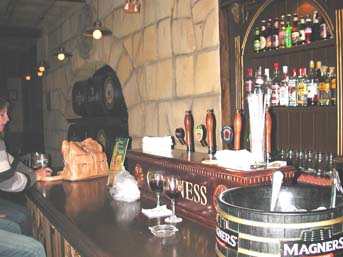 Temple Stone
The place was a lovely looking old fashioned bar ruined by large sports screens all over the place. Wood was a definite theme - wooden bar, wooden chairs, wooden tables, wooden partitions. In fact, the only thing that wasn't wooden was the large stone fireplace, the hot spot of which now housed barrel ends. Lots of beer memorabilia on the wall.
I was about to leave, and the barman asked if I wanted another beer. I said no and he said but it's free. Apparently it was happy hour (8.15pm?) so it was buy one, get one free. So I had another.
Felt tired, so caught double-decker train back to hotel.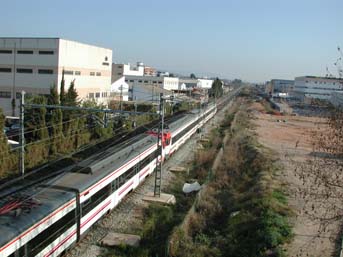 Monday 11 February (Barcelona)
Before I left the conference this evening, I had a couple of beers at a press conference. These were Estrella, a very common beer in the city. The two 330ml bottles I had were Estrella Damm (5.4%), nothing special but a cool refreshing beer.
I then headed for La Cervesera Atresana. I am sure that most cities in the world have at least one great bar, some obviously have more, but for Barcelona this is probably it.
It brews its own beer plus it has a handful of other draught beers such as Pilsner Urquell from the Czech Republic and a couple of Belgian beers from Timmermans, plus a total of 67 bottled beers from around the world from Belgium to Cuba.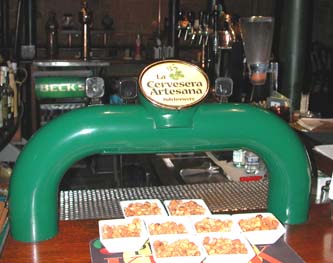 I stuck with its home brewed beers, which the woman behind the bar was keen to stress had no added CO2 and that all the fizziness was natural. In other words, they can be classed as real ales. Apart from the IPA and stout, the other beers are seasonal so if you do visit, the selection may vary.
The bar is on Saint Agusti, near the Diagonal Metro station just off Carrer de Corsega. It is a horseshoe shaped bar with some interesting paintings on the wall.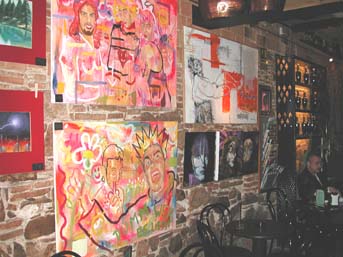 On beer, I started with the Trigo at 4.5%. This was light coloured, slightly hazy. I was told that cinnamon was among the ingredients, though I couldn't detect it. It did, however, have a sour bitter undertaste, though very light. It was a little watery in flavour and overall a bit disappointing.
Much better was the Iberian Pale Ale (IPA), also 4.5%. This was made with Golding and Fuggle hops (I was given some dried hops to smell and taste) and was a dark amber in colour. It had a gorgeous bitter taste, a real beer to die for.
Next up was the Ale Rossa (4.5%), which was a cloudy light beer using saaz hops from the Czech Republic. It had a gentler bitter taste than the IPA. I'd class this as a summer beer.
Finally the Iberian Stout at 4.2%. Golding and Maris Otter hops were used to produce this dark beer with a surprising bitter taste. I'm not a fan of stouts, but the bitterness made this very drinkable.
The only downside to the bar was that it wasn't cheap, at €4.65 a pint.
Tuesday 12 February (Barcelona)
Work finished, I headed for the city centre to try some more beers, but was a little disappointed. I started at Bar International Beer on Casanas just off Las Ramblas. The only Spanish beer on offer was San Miguel, which I avoided, but it did have various beers from around the world. I went for a bottled Mort Sabite Xtreme Kriek, a 4.3% cherry beer from Belgium. It came in its own branded glass but it was a bit pricey at €4.50 for 0.25l.
Most of the bar's international beers were standard, such as Bass and Newcastle Brown from England, Asahi from Japan and Bud and Miller from the USA. Oddly, there were no Czech beers, but quite a few from Belgium including classics such as Chimas, Duvel and Orval.
It's a darkish, split level pub. Two of the pumps were of an unusual design - one shaped like a globe and one like a football. A big screen rather dominated the bar but as it was only showing Weymouth v Torquay United, I couldn't get excited.
In search of an alternative, I quickly discovered that most of the bars around Las Ramblas are Irish bars, and my next stop - My Bar on Carrer de Ferran - was no exception. Apart from the normal Guinness, Murphy's and Heineken, it did have a Spanish beer I hadn't tried, which is why I stayed for a drink. This was called Cruzcampo at about 5%; the barman wasn't sure. It came in its own branded pint glass and cost €5.10. This was a pilsner style beer, slightly sweet.
The bar itself was small but airy, despite the smokers. There were also tables outside on the street. Inside, it was dominated by three big screens (two would have been arguably one too many given the size of the bar), and they were all showing Weymouth v Torquay.
I finished up with a rather dull glass of San Miguel at the hotel bar.
Monday-Wednesday 25-27 February (Nuremberg)
Eku Inn, Farber Strasse
We ate here on Monday evening and it's basically a steak house but had its own branded Eku Pils (4.9%), a basic pilsner from the Kulmbacher brewery.
Maxims Treff, Ludwigstrasse 68
We drank in here a couple of times, and last year as well, as it is very close to our hotel, and it is a nice friendly local serving Paulaner beer.
Schwarzer Bauer, 19 Berstrasse
The bar is called the Schwarzer Bauer, though from the outside you might be forgiven for thinking it is called Altstadthof, which is the name of the brewery and the little square that the pub, brewery shop and brewery are all on.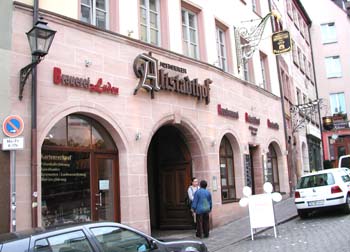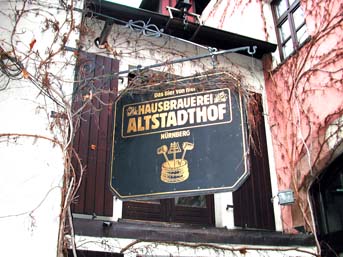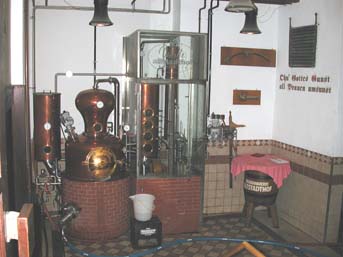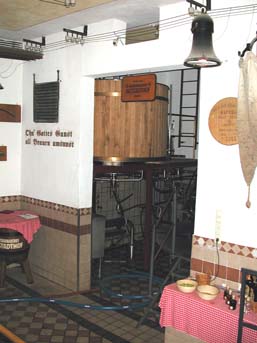 The bar is not very large, but cosy and you have choice of sitting at the bar (which I prefer) or around tables. All the beers have their own branded glasses, but the Rotbier deserves a special mention as it served in a ceramic rather than glass mug. You can either buy standard half litres of each beer or a sample tray containing 0.2 litre glasses of each beer plus a beer brandy that the brewery distillery makes.
Me enjoying the beer sampler tray
If spirits are your thing, you can also have a spirit sampler tray, with the five beer-based spirits that they make - not my thing, so I didn't go for that. The sampler trays are actually paint pallets.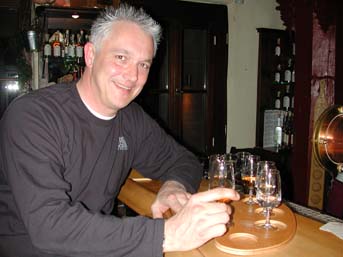 Dave with the spirits sampler tray
So to the beers:
Helles Lager (4.8%). A blonde beer, but wow not a pilsner, very unusual for Germany. Slightly sweet, and slightly darker than the name suggests.
Nurnberger Schwarzbier (4.8%). A very dark beer with chocolate and slightly liquorice flavours.
Nurnberger Rotbier (5.2%). My favourite of them all, not least because of the ceramic mug. This a red beer, with a musky flavour and a hint of a bitter aftertaste.
Sommerweisse (5.2%). A very cloudy and strong tasting wheat beer, that I really could get used to.
Dunkler Bock (6.6%). This is the winter beer that looks and tastes like a stronger version of Rotbier.
Maibock (6.6%). This is their strong summer beer, so wasn't on when I visited but the landlady said it was lighter in colour and taste than the Dunkler.
Bratwurst Hausle, Rathausplatz
If you like German sausages and you're in Nuremberg, you really must go to Bratwurst Hausle.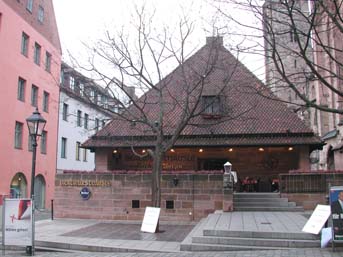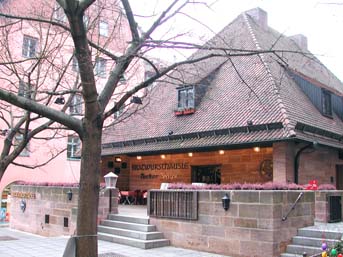 This is a sausage restaurant and the sausages are all cooked in an area in the middle of the restaurant, so you can watch what is happening. I had a very nice potato soup followed by a plate of Nurnberg sausages (these are small, chipolata sized German sausages) with sauerkraut. A glass of the Tucher Weisbeer washed it down. Tucher is a Nuremberg brewery, the beers from which are on sale at many bars in the town. They tend to be either pilsner style lagers or wheat beers. They apparently do a dark beer as well but, I never saw that on sale. I did try their clear wheat beer at one bar - Tucher Kristallweizer - but this was very bland.
Barfusser, Hallplatz 2
This is arguably the most famous brewpub in Nuremberg and should be visited just to say you've been there. It is a basement bar, absolutely enormous and was packed (the same as when I visited it last year). This place must make a fortune, though the service is very slow; it was 20 minutes after our arrival before we got a beer.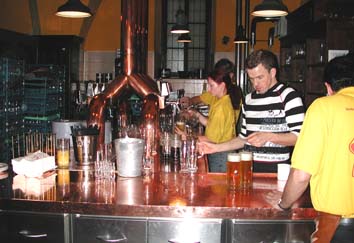 Hanging from the ceiling are a selection of British pub signs. Among those within sight of our table were from the Shrewsbury Arms and the Claremont in West Byfleet.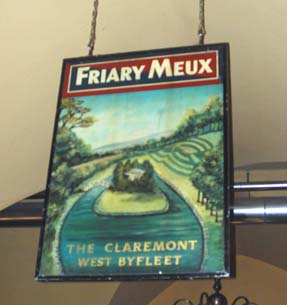 There are two beers made at the place - the Barfusser Blonde and Barfusser Schwarze, though neither are anything special - a basic light pilsner and a slightly tastier dark beer. The food is good though.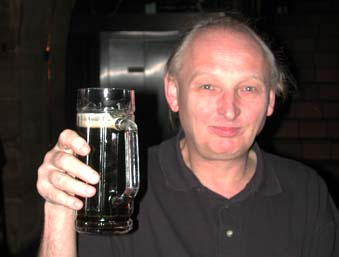 Me in Barfusser
Finally for Nuremberg, two of the stands at the exhibition I was at were also serving Tucher beer: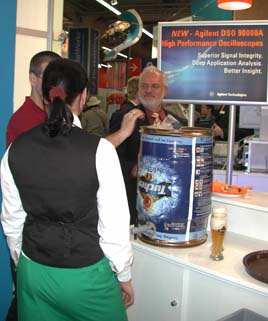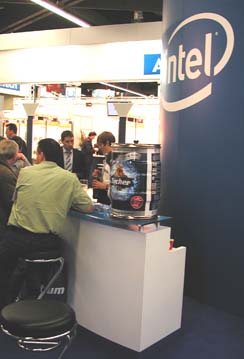 Some general pictures of Barcelona, including the castle at Castelldefels, where I was staying: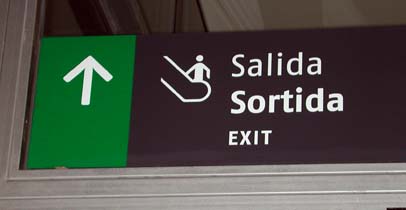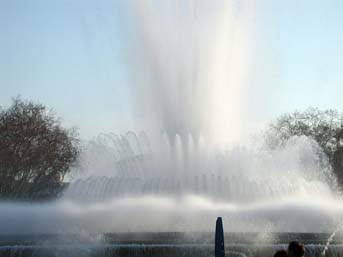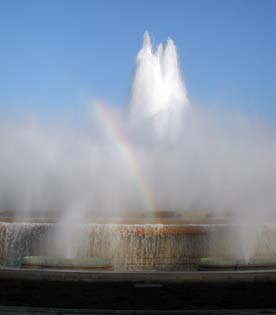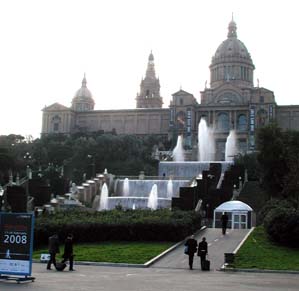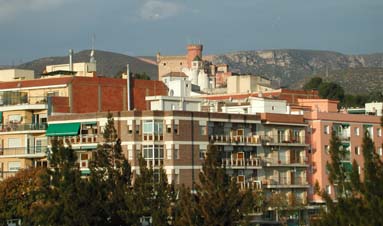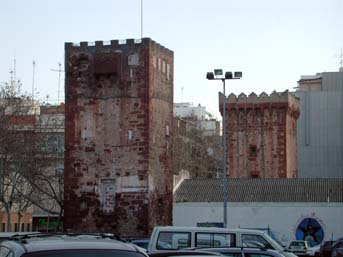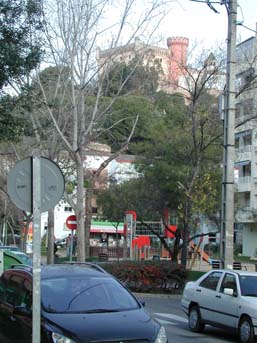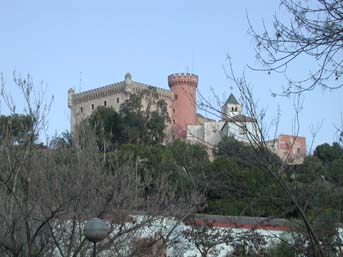 I returned to Barcelona on a work trip later in the year
September 2008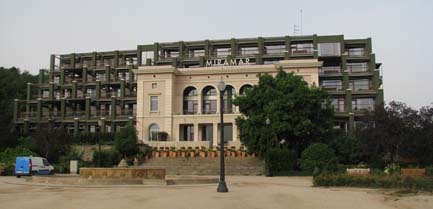 The hotel I stayed at was on the top of a hill near the coast. The next few pictures are views of Barcelona from the hotel grounds.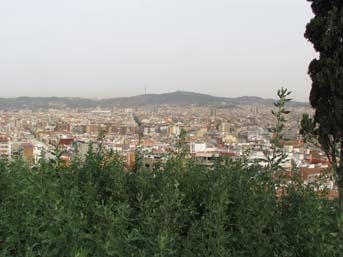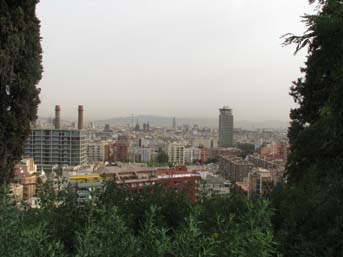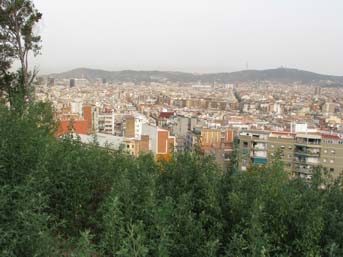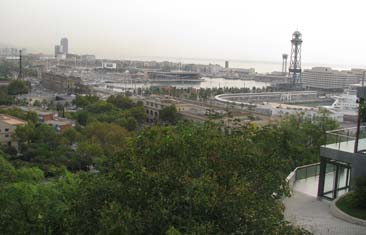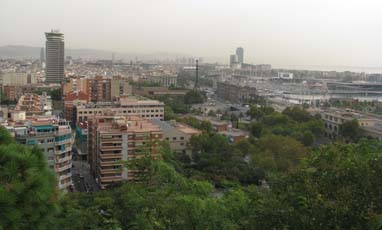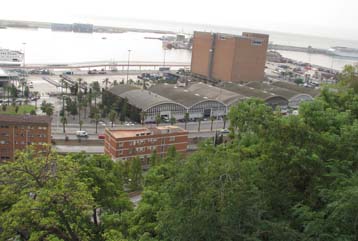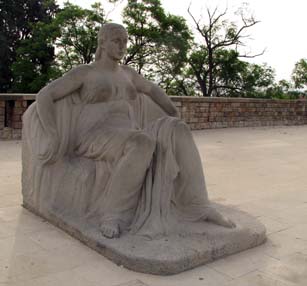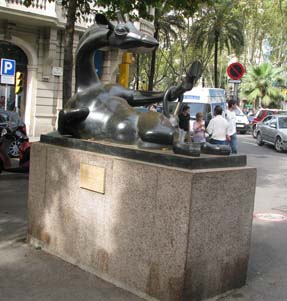 Two rather unusual statues...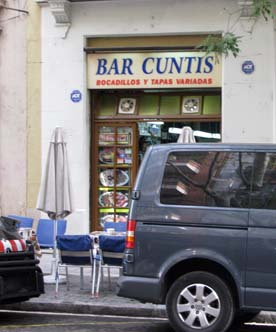 ...and an unusually named bar that I didn't go into.
One evening, the company - Agilent - that had taken us to Barcelona treated us to a meal in a very gothic restaurant. The final pictures are from that evening.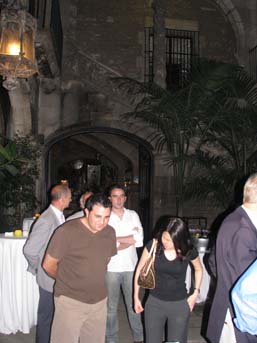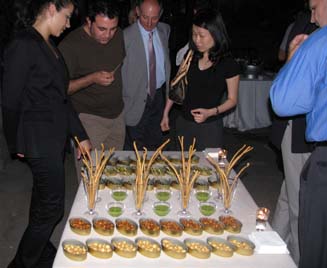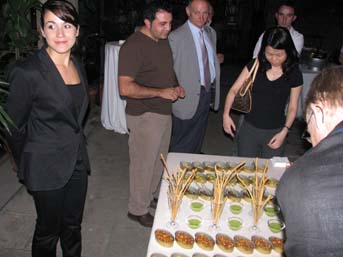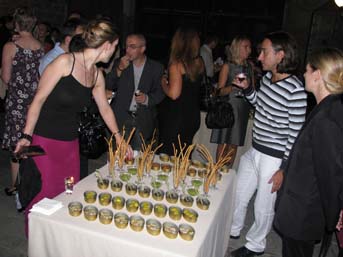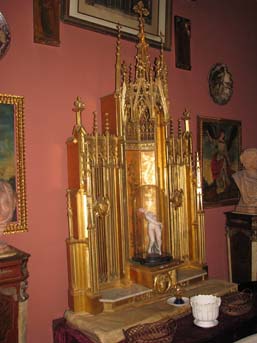 ---