Drinking beer in Girona
A diary of some of the beers and bars in Girona, Spain
20-22 October 2009
Tuesday 20 October
I had a couple of days in Girona with my friends Glenys and Lawrence. We stayed at the Europa Hotel near the station.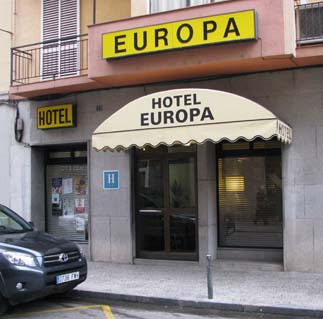 We arrived quite late into Girona, so just got to our hotel and then went out in search of somewhere to drink and found a bar called Frankfurter Konig. This was part of the Konig chain of which there appears to be at least six in Girona. This particular one is at Placa Independencia 2 and has the advantage of being open till 1.30am.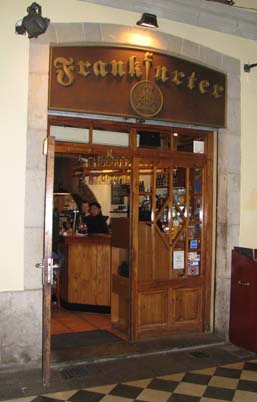 Basically, it is a small restaurant and bar. The bar is inside with barstools around a typical long thin bar. Outside on the square are the tables for eating. The bar sells a range of international beers, mostly from Germany and Belgium plus others including Pilsner Urquell from the Czech Republic and Guinness.
I started with Estrella Damm (5.4%), a sweet and not very bitter light lager from the local Damm brewery. Next I opted for the bar's own label beer - Frankfurter Konig (4.9%) - also brewed by Damm. This is a German pilsner style with a certain hoppiness.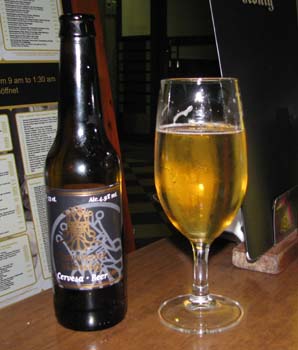 The third bottle from the Damm brewery was the much better Voll Damm Doble Malta (7.2%). The bar served it much too cold (there was even ice on the side of the bottle) but once it had warmed up a bit it was a light coloured but flavoursome beer. It had a grainy smell and a good deal of maltiness in the taste.
The final beer of the evening was Moritz (5.4%) from Barcelona, a light coloured lager, nice but nothing special.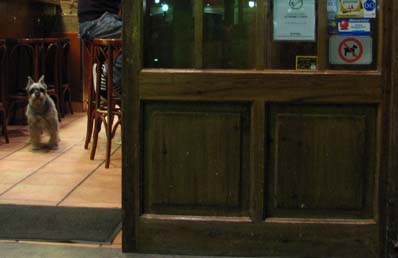 We were amused to see this dog ignoring a no-dogs sign that looked just like the dog in question
Wednesday 21 October
The dominant factor of Wednesday morning was rain, constant, hard, penetrating rain. But the three of us were only there for two days, so we braved the weather and went exploring the old town. We, of course, got very wet in the process and I didn't even take any photos as it was too horrible, especially as my umbrella began to disintegrate. We did take a breather from the rain in a little cafe bar called Cafe El Sol (the only sun we got that morning) on Placa del Vi. It was a pleasant enough bar but the only beer on sale seemed to be Estrella Damm on draught and in bottles.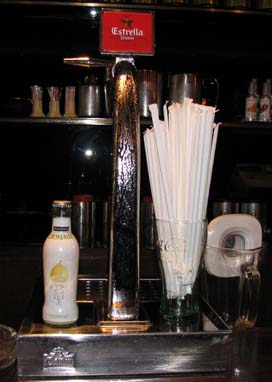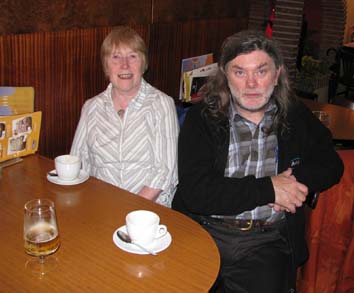 Glenys and Lawrence in Cafe el Sol
Eventually, my umbrella stopped working at all and I bought a new one, and it immediately stopped raining. Lawrence said it was obviously a magic umbrella.
This was the highlight of our trip, a visit to the recently opened (just over a year ago) Birrart brewery just outside Girona.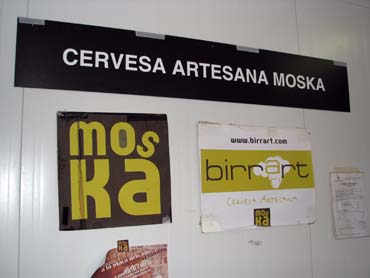 The owner, Josep Borrell, picked Glenys, Lawrence and I up at Girona station and drove us the 4km to his microbrewery. All the beers are branded Moska (after mosca, a fly with its own role in Girona legend). Josep sees himself as a visionary helping beer in Spain to become as popular as wine with people appreciating the different flavours rather than mass produced bland lagers. Already he is producing 600 litres a week and his products are on sale at over 30 bars and shops around the city.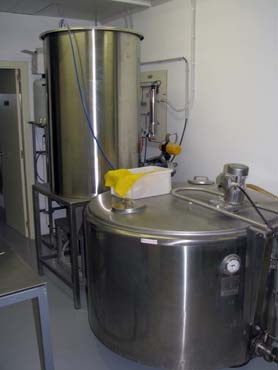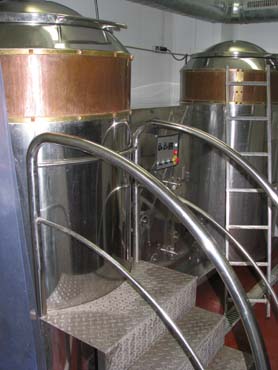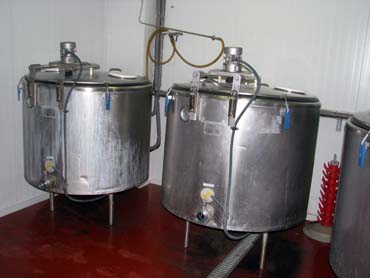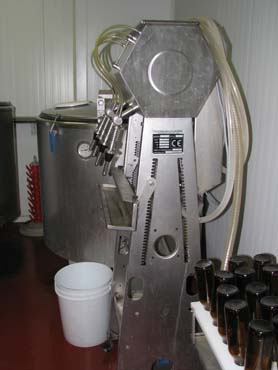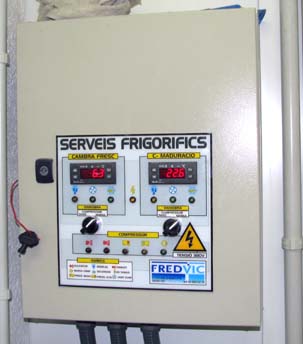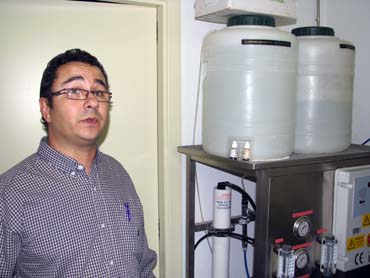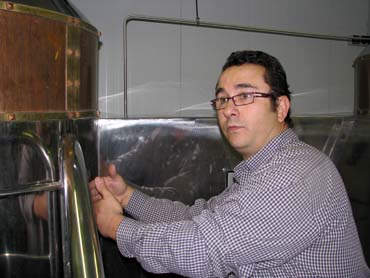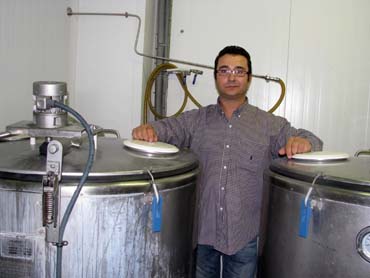 After showing us round the brewery, with some translation help from his sister-in-law, we got a chance to sample the four beers.
Rossa (4.4%) is a blonde hoppy beer using a mix of Gadena and Zatz hops.
Torrada (5%) is dark and cloudy with a citrussy smell and citrussy bitter taste thanks to the Cascade hops. A little chocolate malt is also used in the brewing.
Negra (4.4%) also uses cascade hops. This is a black beer but not a stout. It tastes lighter than it looks with a lasting bitter finish. Honey in the brewing process gives it a sweet aroma.
Poma (5%) is the apple beer. This is not a cider but a bitter brewed using apples. It smells like apple pie and uses Fuggle hops to give it a bitter flavour. We tasted the second batch of this beer, which used Golden Delicious apples. There was an early batch that used Granny Smiths and we brought a bottle of that back with us to try later.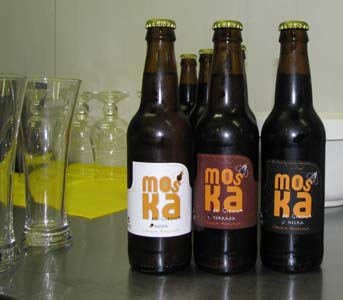 After the lovely brewery visit in the afternoon, that evening Glenys, Lawrence and I decided to visit a couple of the establishments selling Moska beer, starting with The River Cafe, (Carrer de la Barca 2), a trendy horseshoe shaped bar under the shadow of the cathedral and, as its name suggests, close to the river. Seating ranges from barstools to leather armchairs. As well as the Moska beers, there is a wide range of beers from around the world including five from Germany and a range from Belgium. Other countries covered include Lithuania, Jamaica and Argentina.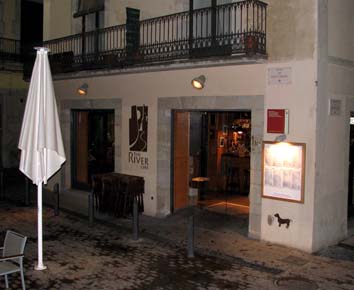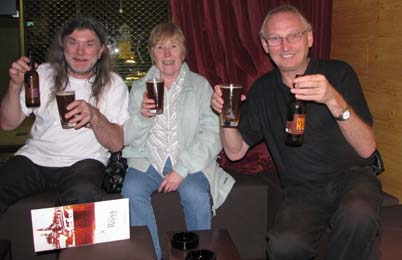 Lawrence, Glenys and I in The River Cafe
From there, we crossed the river to visit Babal at Anselm Clave 21. This is a slim bar with a glass front and an upstairs seating area with comfy seats. As well as the Moska beers, it has Vol-Damm on draught and AK Damm (4.8%) in bottles. The bottle was nice and the beer was gold blonde in colour with a malty falavour.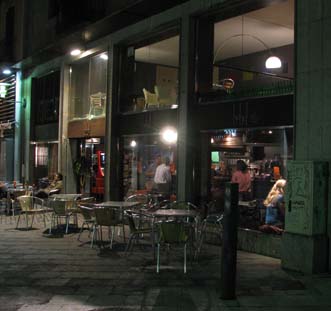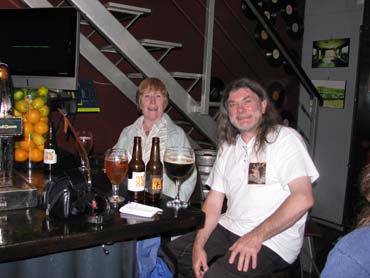 Thursday 22 October
The sun was out this morning, so the three of us went to explore the city again in better weather. Not surprisingly, it didn't last and the rain eventually came down but not as bad as the day before and we had a nice walk along the city walls and admired the views. Later, we spotted a bar amusingly named Bogey on the corner of Ronda de Ferran Puig and Calle de la Sequia, so we decided to pop in for a quick drink.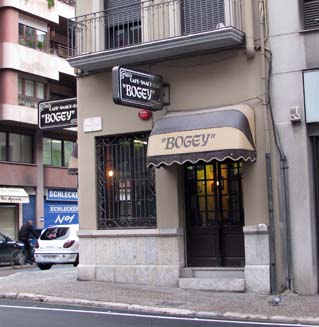 While in there, the weather got even worse and was really bucketing it down, so we ended up staying for most of the afternoon drinking Voll-Damm. It was a good friendly local bar and the name comes from Humphrey Bogart, pictures of whom decorated the walls.
A quick trip to Babel bar was followed by the bus to the airport for our return flight. We were dismayed to find the bar at the airport only seemed to sell San Miguel beer but discovered one of the bottled beers was called San Miguel Selecta, which none of us had heard of. This turned out to be a very nice 6.2% lager to end our trip with.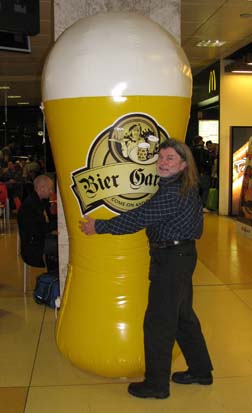 Lawrence finds his perfect pint at the airport
Some general shots of Girona to finish off: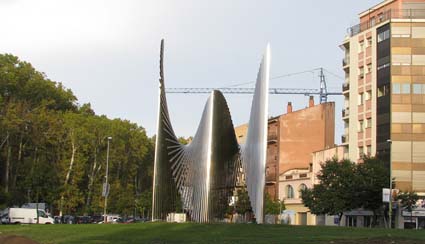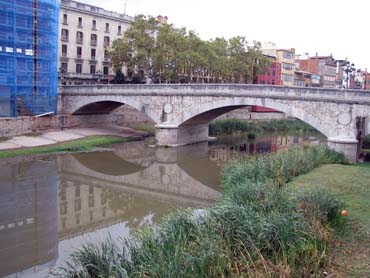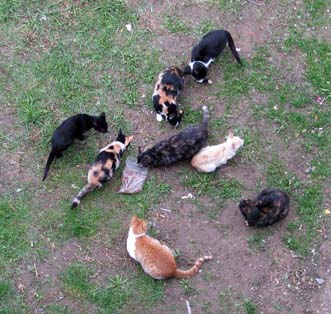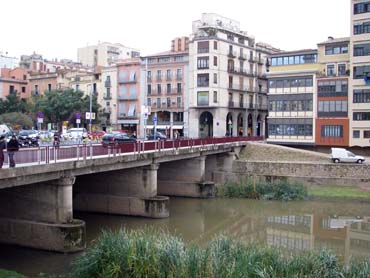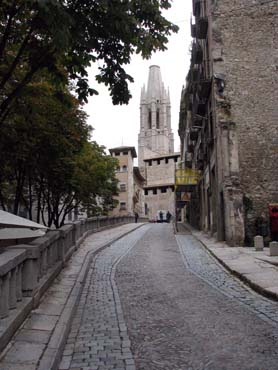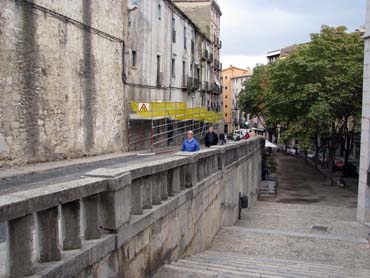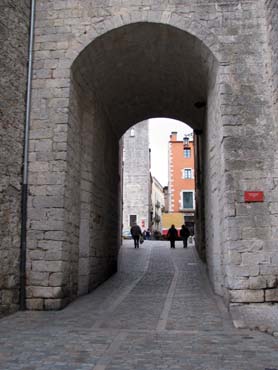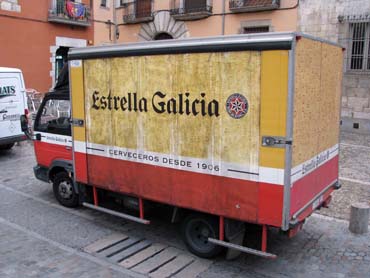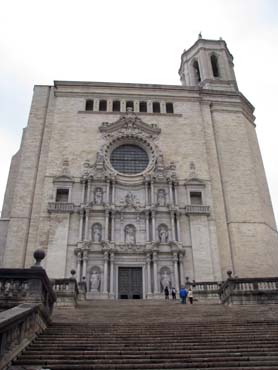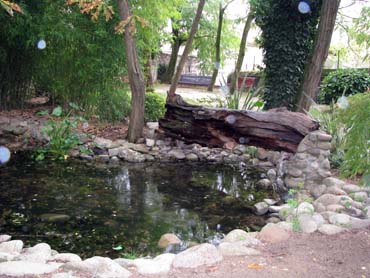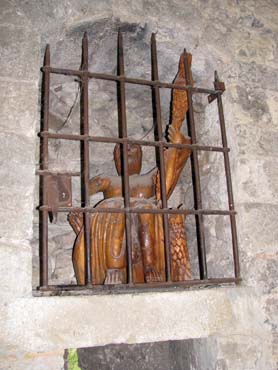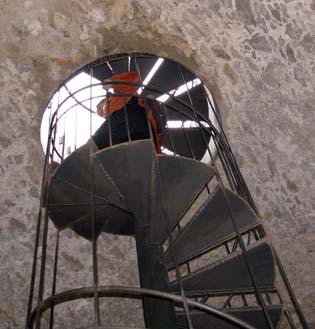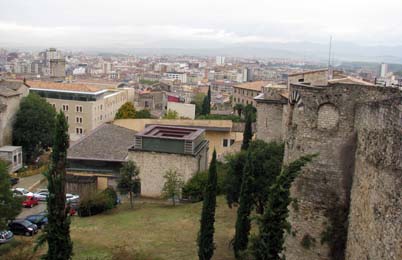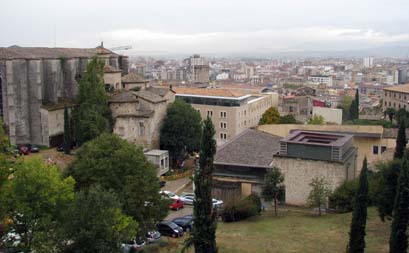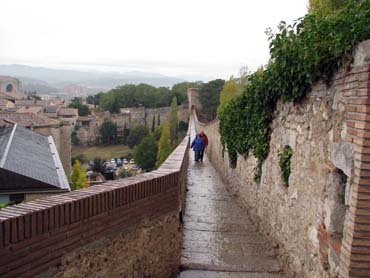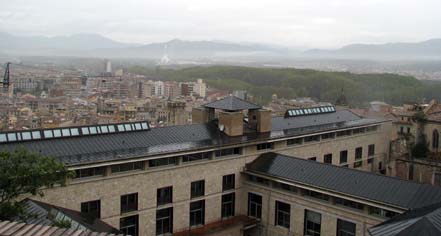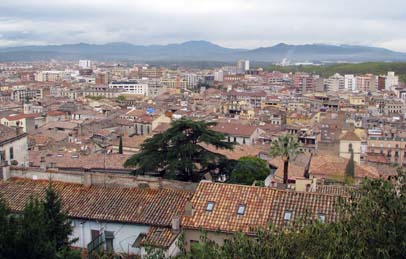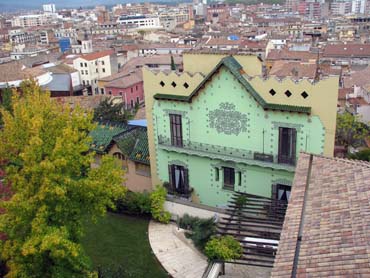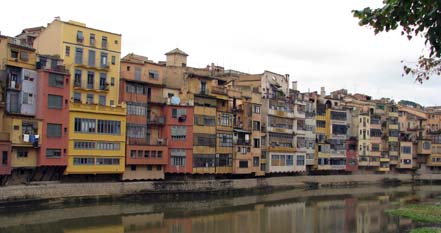 ---