The 67th World Science Fiction Convention, Montreal, Canada, also known as Anticipation
page two of three
The convention itself
6-10 August 2009
6 August
We spent most of the first day hanging round on the comfy chairs on the fifth floor of the convention centre meeting people as they went by. This was also handy as the children's programme was based in that area too, and that seemed to occupy Joshua for most of the afternoon. I photographed some of the people in costume as they went past.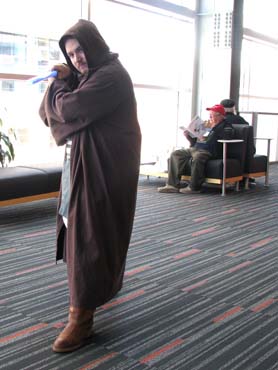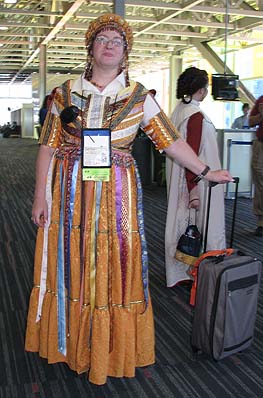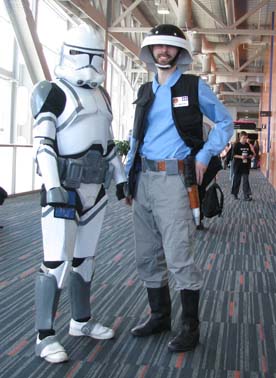 7 August
It was midday before we got ourselves moving and headed for the convention centre, arriving just in time for Tracey to go a knitting circle and Joshua to grab a Subway sandwich and join a script writing workshop. I used the free time to wonder around the dealers room and then sit people watching on the fifth floor comfy chairs again, where I bumped into Victoria from Philadelphia, a long time Blake's 7 fan who I know from the B7 mailing lists and met at the Eclecticon conventions in New Jersey a few years ago. She was also at the Deliverance B7 convention in the UK.
There seemed to be more people in costume today, and I managed to get a few photos. Later Joshua, wearing his new "Trust me I'm a Jedi" T-shirt, went to a kids Jedi training session.
Late afternoon, Tracey and Joshua headed back to the hotel in a taxi that took them first to the wrong hotel, despite me having shown the driver the hotel's business card before he left, and then to the right hotel, charging about double the normal fare as a result.
At 5pm I had to moderate the Stargate panel. I was a little nervous about this as Stargate is not my main fandom and I know Canada has some heavy hitters in Stargate fandom. But I had watched all the episode of SG-1 and Atlantis, plus read the very patchy article about the new Stargate Universe series in SFX, so I was armed.
My fellow panellists were Alex von Thorn, Christine Mains and Kathryn Sullivan, and they were great and very easy to moderate (Gaspodex take note). I also ran the panel Redemption style, in that I brought the audience in early so it was far more interactive.
The discussion seemed to split fairly evenly between talking about the existing shows of SG-1 and Atlantis and speculating about the new Universe, which is due to air in North America in October. I also learned that a director's cut version of the original Stargate movie is about to come out on DVD.
The panel lasted about and hour and 20 minutes and seemed to go well from where I was sitting. I hope the audience enjoyed it too.
Friday night was UK party night. This was run jointly by Outreach - an organisation promoting UK science fiction events - and Odyssey, next year's British National Science Fiction Convention. I made Redemption posters in English and French just for the event.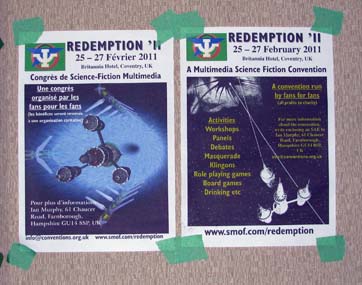 Redemption contributed to the event with a knitted dalek, made by Tracey, and it went down really well. We raffled it as our contribution to the party and raised nearly Cd$60. It was noticeable how many people left the UK party after we did the draw (it was a you had to be there to win draw). The pictures show Tracey, Joshua and the lucky winner, but sadly we didn't get her name.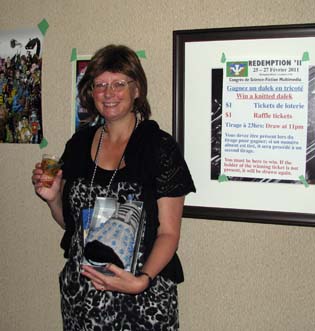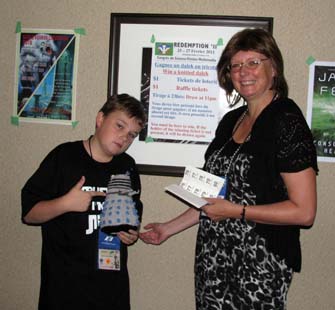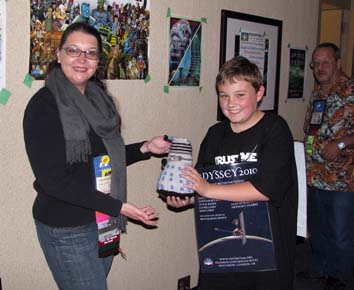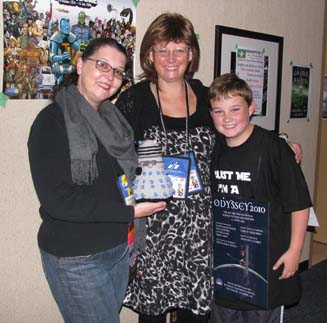 We also went round some of the other parties, enjoying the cheese at a French authors party and Tracey had red wine. This was a shock as she normally only drinks white. We didn't go into the Japanese party but liked the look of the bouncer.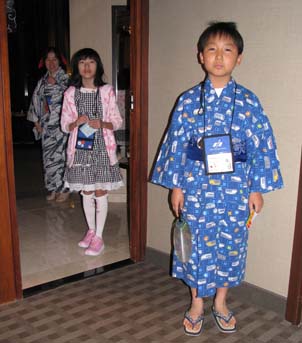 But our favourite party was the Canadian SF society. Tracey fell in love with their whiskey and maple syrup (we wanted to find a bottle to bring back but failed), I liked the beer and Joshua liked the beef sandwiches. They also had these cool hockey games that we had a go on. And they had a sign that read: "The legal drinking age in Quebec is 18 (That's 21 in American years or 10 in Euros)."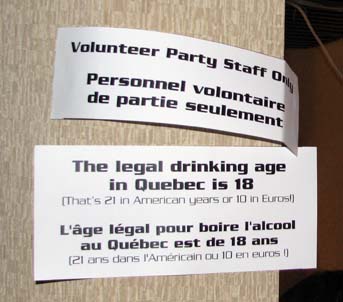 By the time the dalek was drawn and won, well after 11pm, we headed back to the hotel as Joshua was very tired. Tracey was wearing a big whiskey and maple syrup smile.
8 August
The three of us strolled down to the convention centre yesterday via McDonalds and arrived roughly midday. Joshua went to two events in the children's programme - one on what to do with stories once you've written them and the other an improvisation live role playing game. I took a couple more pictures of people in costume.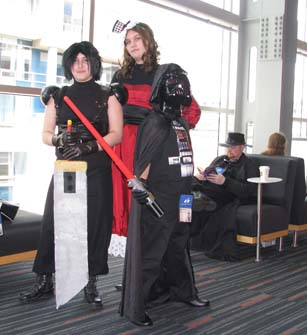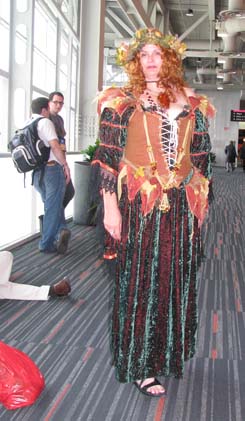 While Joshua was occupied, Tracey and I went to see Neil Gaiman give a reading. I have to admit a certain embarrassment here as during the first reading I fell asleep. I must be more tired than I realised. The second of his two readings I heard properly and was a love letter for an anthology of love letters that someone is doing. Neil's was really creepy, and I enjoyed it a lot.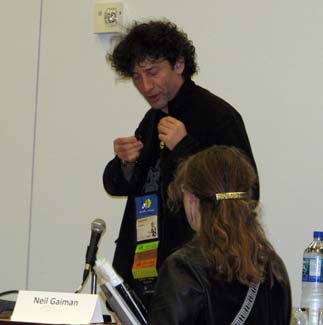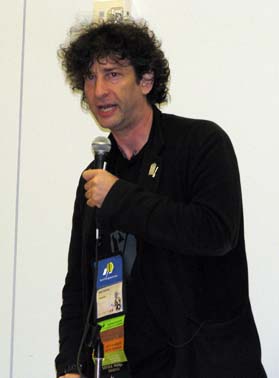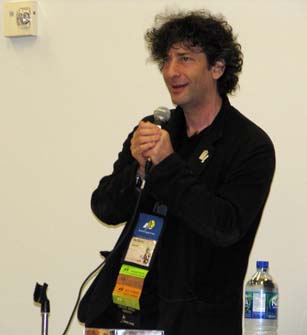 We then had a quick look round the dealers room where we spotted this T-shirt: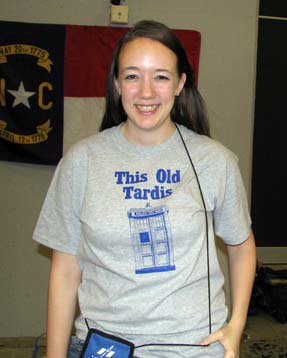 The main evening event was the masquerade. I had a fan photographers pass so while Tracey and Joshua watched from the front, I stayed back stage photographing each costume in front of a white background. There were some impressive costumes. I've put the masquerade pictures at the bottom of the page to save people scrolling through them to read the rest of the report.
We tried the parties afterwards, but Tracey was too tired, so we went back to our hotel.
9 August
We got up just before midday and headed for the convention centre as Joshua wanted to enter the Harry Potter trivia quiz at 12.30. We got him something to eat and got to the room at 12.20 to find it had already started. Joshua still managed to join in and have a good time, but this probably illustrates our greatest frustration at this convention and that is the large number of changes to the printed programme and the various correction sheets you have to have, and even then not all changes are listed. A convention this size is bound to have some programme alteration but this is particularly bad.
In the dealers room, I bought two DVDs from Odellia: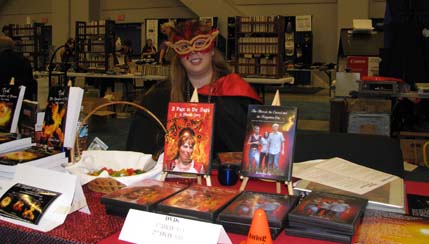 We had our photograph taken by Kyle Cassidy, Neil Gaiman's photographer: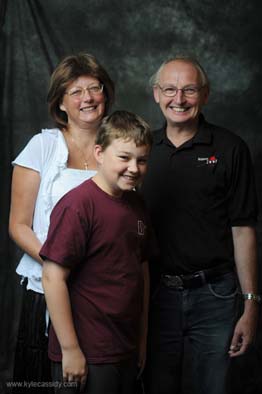 Tracey then wanted to go to a workshop on corsetry for costumers, but this was cancelled. Joshua seemed happy playing in the children's area so Tracey and I went for a walk down to the harbour. We passed this stone building with a wooden fire escape!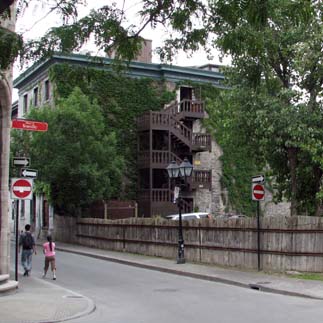 We got back in time for Joshua to go to a reading of The Hobbit, which he enjoyed. He has also bought some books and if the convention has had an effect on him it seems to have lit an interest in reading, that is of books rather than comics.
Here's another picture of someone in costume: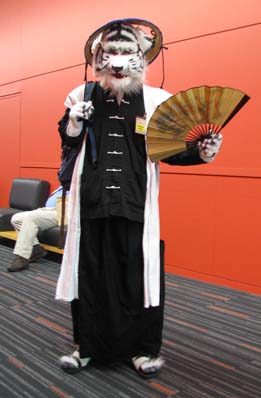 We went back to the hotel after that and ate in the hotel restaurant before going for a late walk round the old town and then to bed.
10 August
I got up particularly early this morning and left Tracey and Joshua sleeping so I could joint the queue to get a ticket that will let Joshua join the queue later today to get Neil Gaiman's autograph. The time listed for this morning's queue was 9am and I got there at about 8.20am to find already about 50 people in line. I was told that only 100 tickets were being given out and the queue was easily that long by just after 8.30am, but later someone said that more tickets than that were available.
I used my time in the queue to read the results of last night's Hugo awards. The shock for me was no Hugo for Dr Who this year. The dramatic short form prize went to Joss Whedon's Doctor Horrible's Sing-Along Blog, which I haven't seen.
The dramtic long form prize went to Wall-E, which I also haven't seen.
Neil Gaiman's The Graveyard Book not surprisingly won the best novel and no Hugo for Dave Langford this year.
The full list is here.
We again headed for the convention just before midday. I was in a little bit of a hurry because earlier in the convention I bought a copy of Saturn's Children by Charles Stross with the American cover that he doesn't like and I wanted him to sign it - his autograph session ended at midday. He got his revenge by signing it with the inscription: "In memory of our evening of pleasure." The evening in question actually referred to the pre-con pub crawl that I organised and he attended.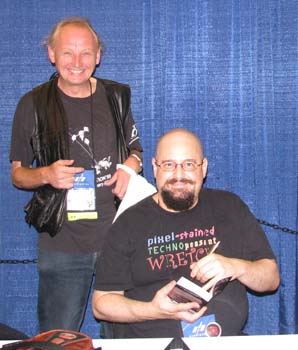 Joshua then got involved in some board games in the children's area while Tracey and I had tea, coffee and cake. Afterwards, we joined the queue to get Neil Gaiman's autograph. Joshua was initially a bit reluctant to leave the games but eventually came to get Neil to sign his copy of the Coraline graphics novel and a picture of Neil and Joshua taken at Orbital.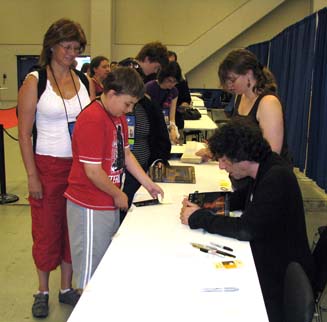 Our final last visit to the dealers room saw Joshua splash out on a set of figures and command deck from the original Star Trek. Joshua also posed with a giant robot.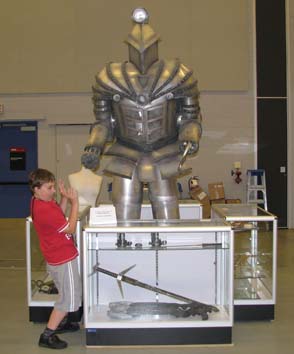 This night, the three of us headed for the Delta Centre-Ville hotel for the traditional end-of-convention dead dog party. The problem with it soon became apparent for while they had crates full of soft drinks and lots of food (handy, as I was hungry) the booze was getting very low. I was left with little choice but to drink a bottle of Becks (yeuk) and once the two remaining bottles of wine were gone, Tracey and I became fidgetty. I was thus sent down to the hotel's bar to get provisions and thus bought a pint of Rickard's Red (very nice) and a large glass of white wine. Then came the snag. The barman refused to let me leave the hotel bar with the drinks and got quite angry that I wanted to try. So I told him I was going to sit at a table (conveniently near the door) and ring up for the owner of the wine to come down. As soon as his back was turned, I was out the door with the drinks and up on the elevator to the fifth floor where the party was.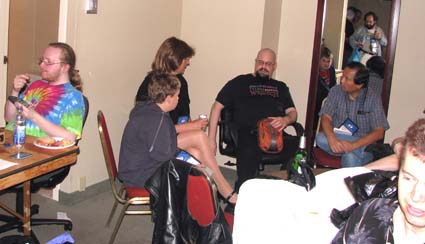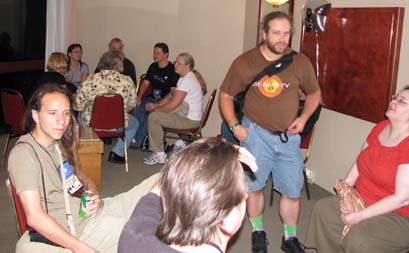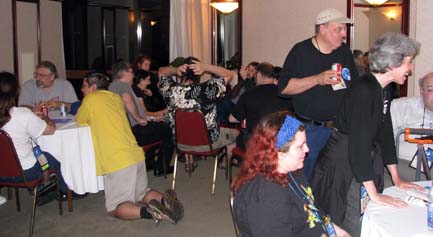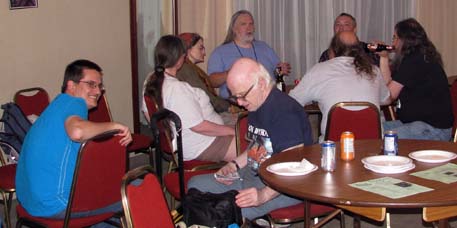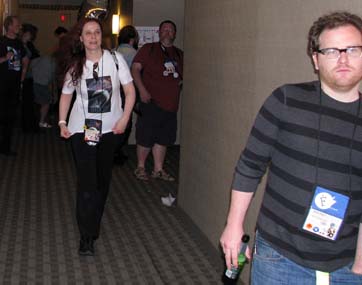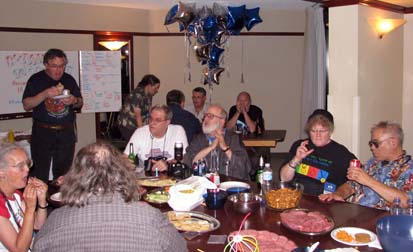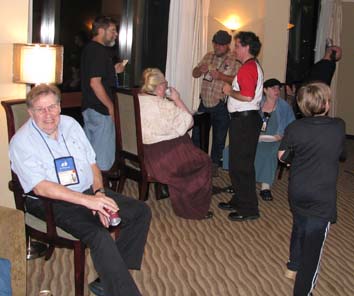 While I was away, Tracey and Joshua had been joined by Feorag, who was a little drunk after visiting some pubs during the afternoon. She recommended the bar at the nearby Intercontinental Hotel, and once we'd finished the newly bought drinks the four of us headed off there.
Tracey was happy as this bar had the whiskey and maple syrup she'd been drinking at the Canadian party on Friday night and I was happy because they had the bottle conditioned version of Unibroue Maudite that I'd tried on draught at Peel Pub last week. After tipping the waitress she eventually sussed we didn't want the little cartons of chips to soak up the alcohol but a big plate full.
And thus the convention ended.
Masquerade pictures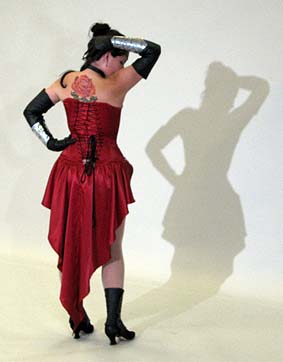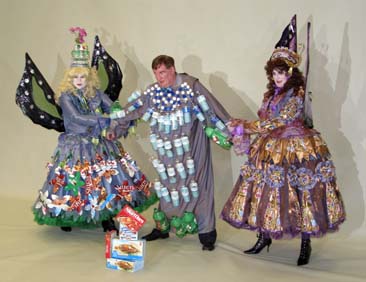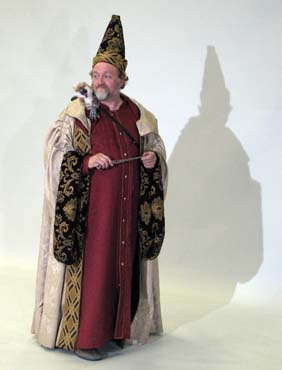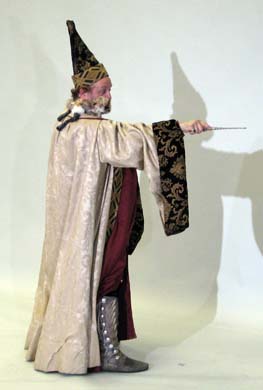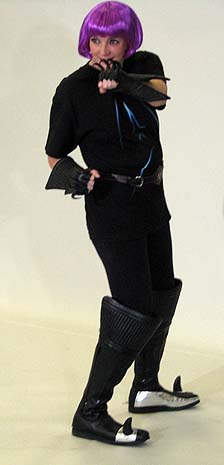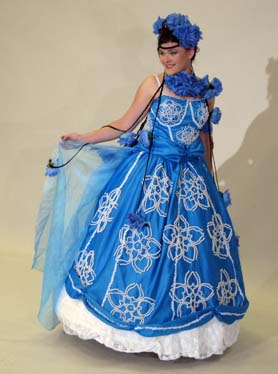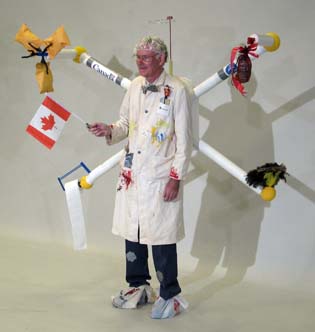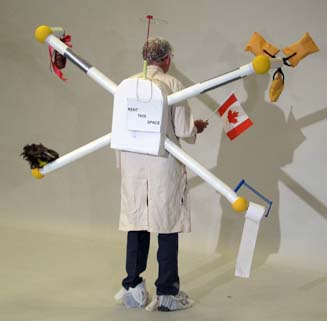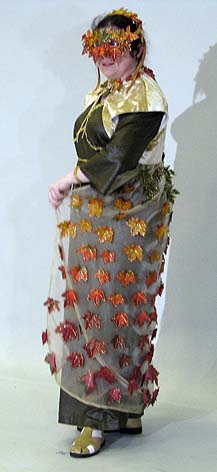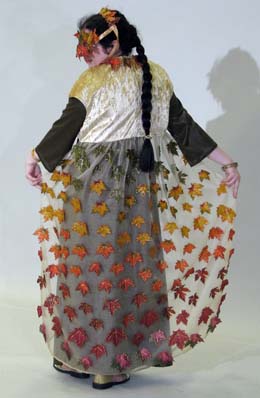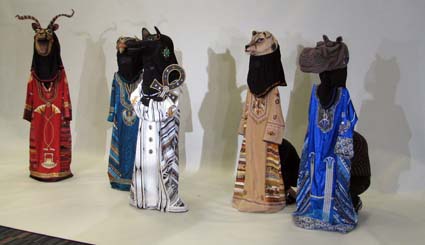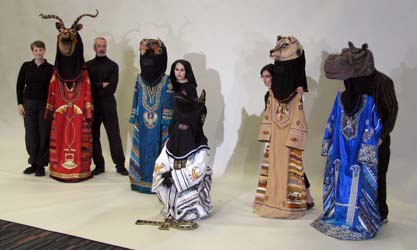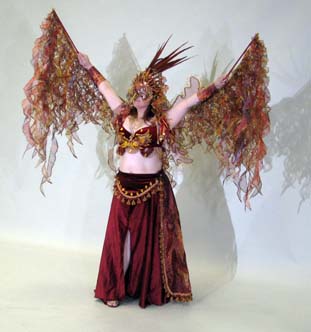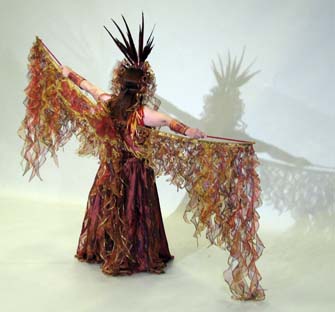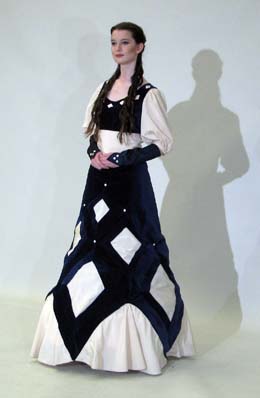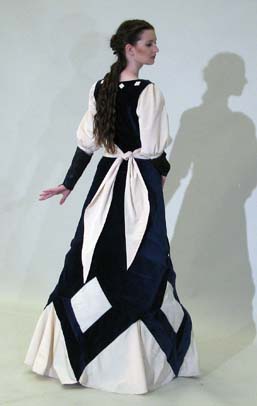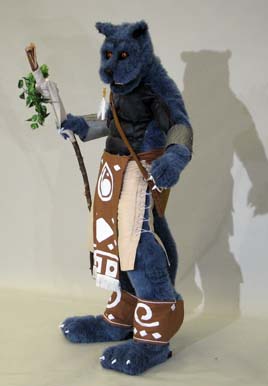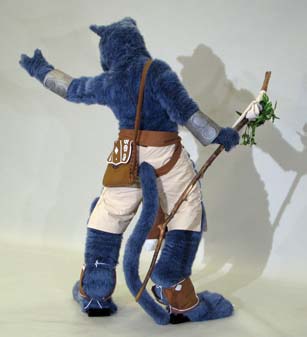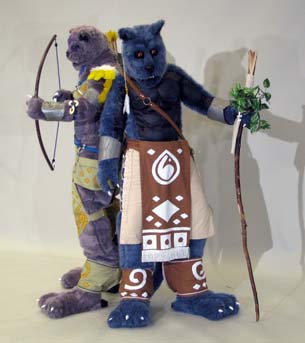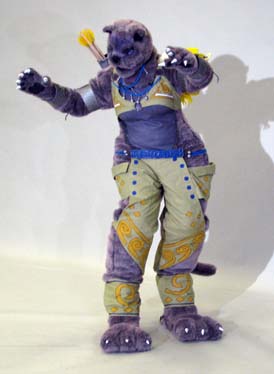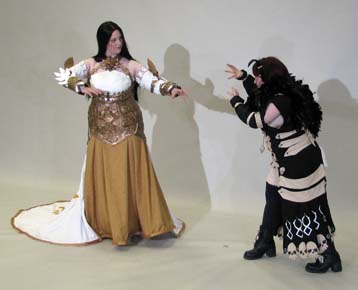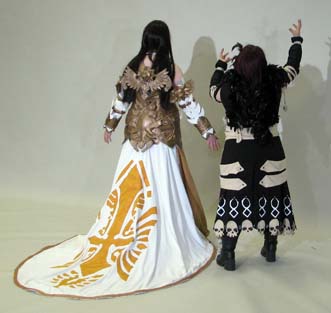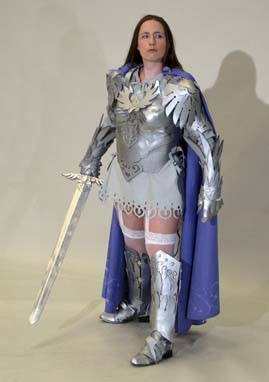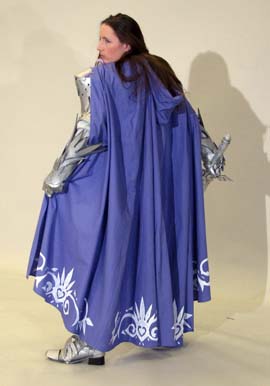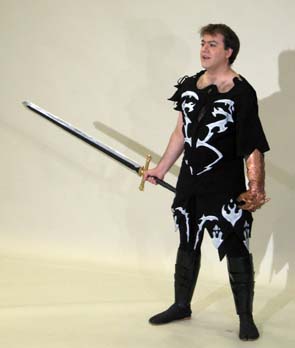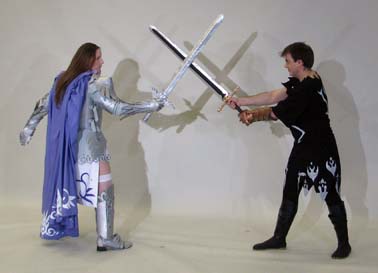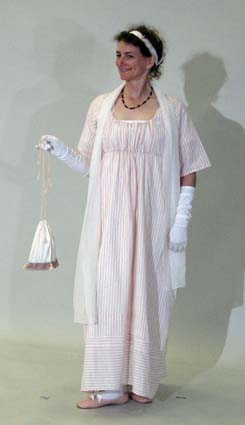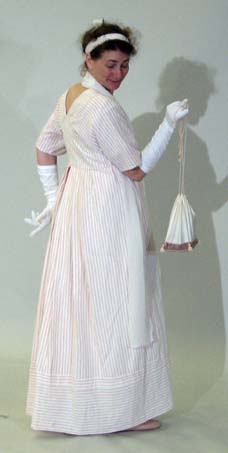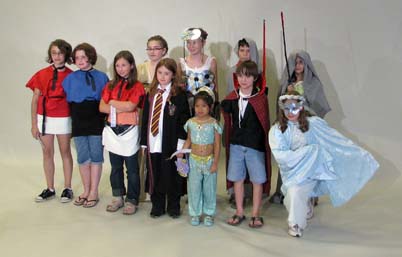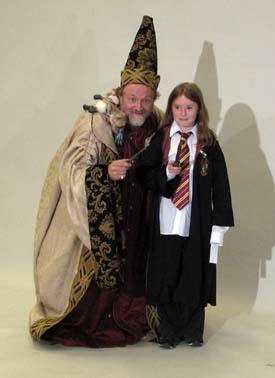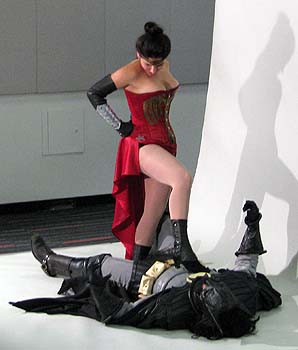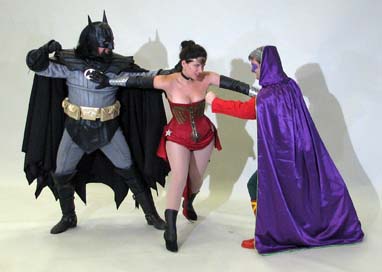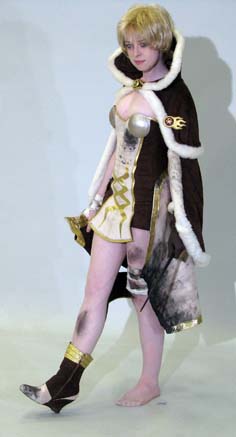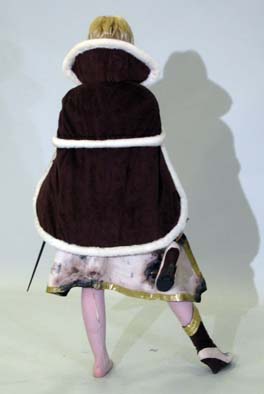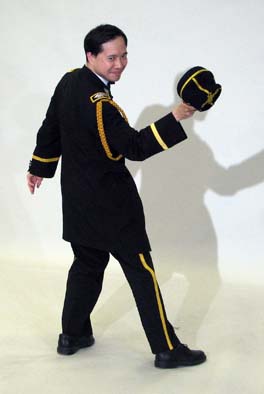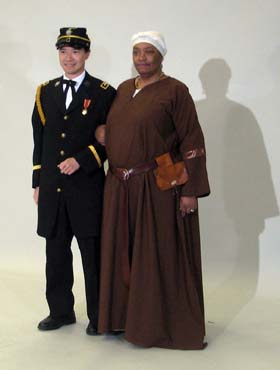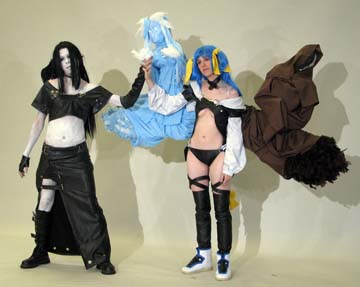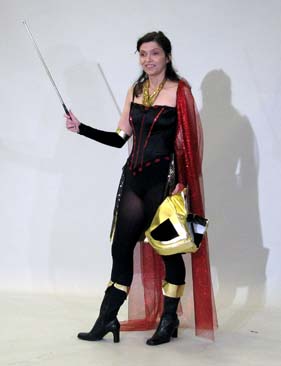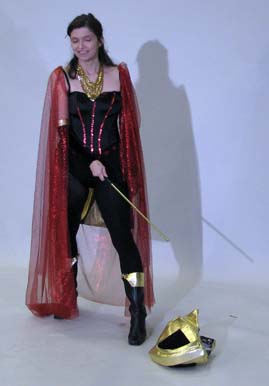 I have high resolution versions of most of these. If you want one, please email me. I also have some other versions of some of the shots shown here.
Links to the other two pages:

---