Taipei
A diary of a work trip to Taipei, Taiwan
4-12 October 2008
Saturday 4 October
I arrived at Manchester Airport. I was in Terminal Three, never been there before. The choice of beer at the bar is just as crap as the other terminals though.
Also, Blackburn v Manchester United was live on TV now in pubs across the UK, never mind across the world, but at Manchester's own airport? No. Grrr!
My plane was delayed but thankfully not too bad as I had a short change at Heathrow. Problem was made worse in that I didn't have a boarding pass for the long leg from Heathrow to Taipei. The check-in woman said I had to get that at Heathrow, which was annoying. Never had that before; normally they can issue you boarding passes for all legs when you check-in. They checked my luggage through to Taipei though.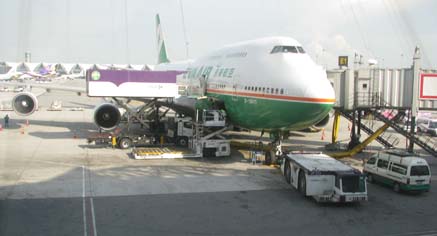 Sunday 5 October
I arrived in Taipei quite late, collected my luggage and got to my hotel without a hitch. I chatted on the phone for a while with Tracey. After showering and changing, I headed for Shuang-Cheng Street to a couple of sports bars I've been in before. The beer is basic, but you can play pool and they have football on big screens.
The first one was Malibu West (pictured below) at 25 Shuang-Cheng Street. This has Singha bottled beer and Tiger on draught. It is a big friendly pub that also does food. I played a few games of pool and then headed for the next bar.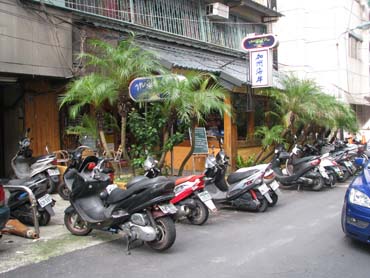 This was called My Place at 32 Shuang-Cheng Street. This horseshoe-shaped bar was less crowded than it was this time last year, unusual for a Sunday night when English football is live on telly. Here, it is the turn of the Tiger beer to be bottled and on draught is TsingTao. Oddly enough, it also serves keg Abbot from Green King. Guiness is also available on tap.
More on both bars here
Monday 6 October
Monday morning, I went for a walk before being picked up at the hotel to take me to the seminars I have to attend this afternoon. Pesky work getting in the way of being a tourist.
After what was a fairly dull conference, I ate at one of the hotel's many restaurants (it was free to me if I ate in the hotel), this one a Taiwanese restaurant. I ordered chicken and mushroom soup for a starter, which arrived after the fried rice but before the pork in soy sauce. I was nearly full when the other chicken dish arrived. There was so much food there and I ended up leaving so much. Delicious it was too.
I then went to Jolly. I went there last year and it is probably my favourite bar in Taiwan.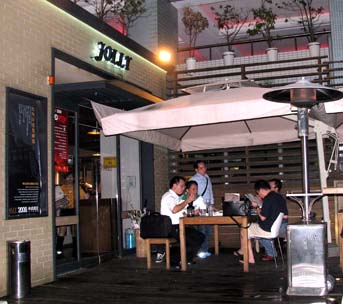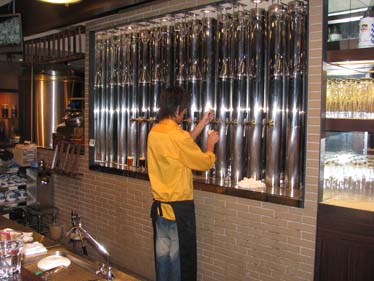 Here are my views of the beer (these were all served in small 100cl glasses):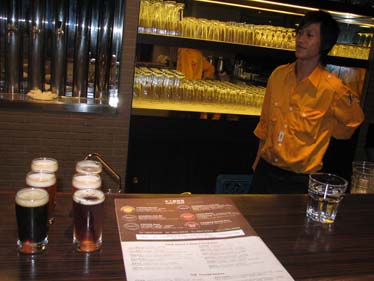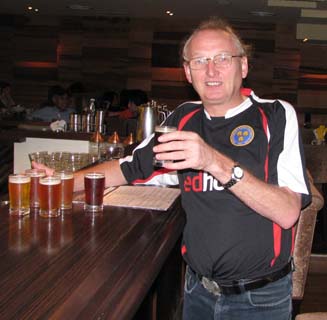 Pilsner 5%
This was probably one of the best pilsners I've tasted. Lovely and bitter, really fresh. Light colour.
Pale Ale 5%
Slightly darker than the pilsner. Deeper, muskier taste, but still bitter.
Belgian Abbey Ale 6.8%
Lots of flavours trying to attract my attention. It is a dark red colour, sweet and bitter at the same time, and fruity.
Weizen 4.6%
Weakest in strength, and a little watery after the Abbey. A sweet wheat beer, light coloured but not cloudy. (My notes from last year said this was cloudy, so maybe they've changed the recipe).
Scotch Ale 7.2%
Very much a stronger version of the Pale Ale. The taste is similar but brought out more with the extra alcohol.
Stout 6%
Guinness this isn't. A dark, bitter beer, slightly burnt taste with a hint of caramel aftertaste.
After leaving Jolly, I went onto another bar I'd been to last year. This bar is called Deluxe. It is built into the Taipei Arena, which hosts concerts and sometimes basketball. It has a sporty theme, with big screens behind and in front of the bar.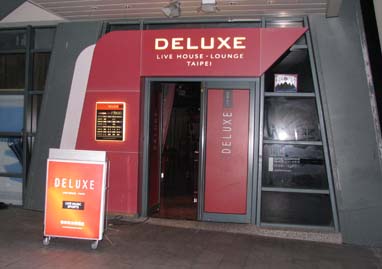 The most notable difference from last year is that the local beers are down from three to two. Missing is the Deluxe Weissbier. I asked why and was told that its sharp, sour taste was not liked by the locals.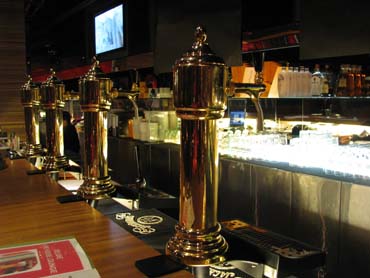 OK, onto the other two beers:
Deluxe Gold Pils 4%
First, I had to stop the barmaid ruining this beer by using a frozen glass. Very malty. The bitter is reserved for the aftertaste.
Deluxe Dunkel 5%
Dark, reddish beer, more like a mild than a dunkel. A bitter edge to an otherwise bland beer.
I also bought one of their branded glasses.
I decided then to head for Le Ble d'Or, another bar I'd been to last year. I went into the courtyard where I recalled it existed, and it had gone. I was upset, I liked that bar. I enquired what had happened to it at the Outback Steakhouse, which overlooks the courtyard, and the nice man there told me that it hadn't closed but moved, and showed me where it was on the map. Nowhere near there sadly, but annoyingly close to somewhere I'd been earlier in the day. That will have to be reserved for another day.
I was, however, not far from another bar I went to last year, the Indian Beerhouse.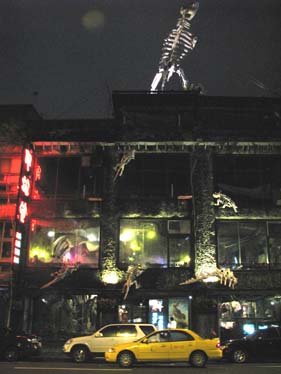 It still looks like a dinosaur cave, and I took a few photos.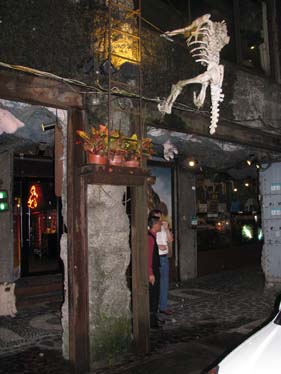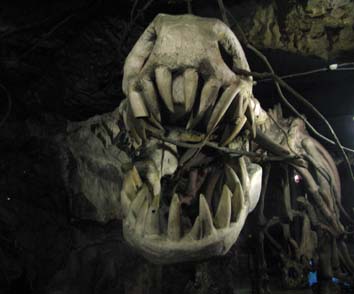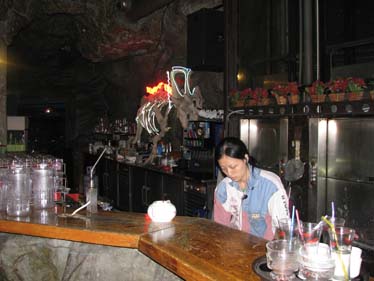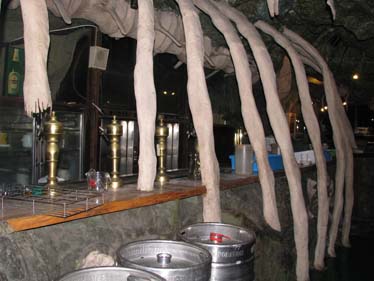 I then went to order a beer, and was told that there was a minimum charge of NTD600 (about £12), which is a lot for one beer. After a bit of arguing, they decided to let me have a beer at the normal price of NTD80. I was surprised that I had to argue given the place was less than 10% full. I had a small San Miguel, which is the only beer they serve now.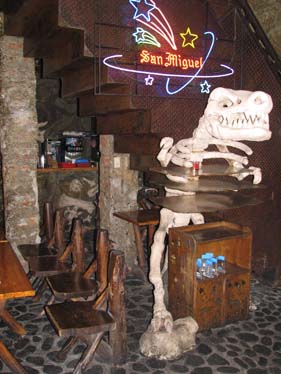 I got back to the hotel (Howard Plaza) and remembered I had a voucher entitling me to a free Taiwan Beer at the hotel bar, so that was my nightcap. It came in a can - yeuk - and they gave me a glass that was too small. A very bland 4.5% lager.
The hotel bar also serves keg Boddingtons and a few bottled beers including the Erdinger range - Kristal, Dunkel and Hefeweiss.
Tuesday 7 October
I attended a series of seminars this morning, which while dull were quite useful for one of the articles I had to write after this. The seminars were on medical technology and there were some interesting differences in types of cancer worldwide. For example, liver cancer is not in the top five in either Australia or the USA (he didn't show figures for Europe) but is in the top five in the seven major south-east Asian countries and is top in Thailand and second in four of the others.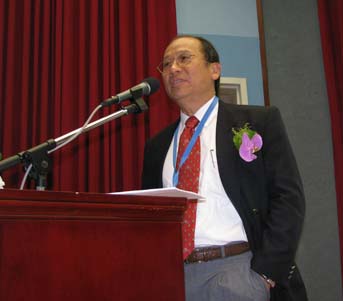 He used this to explain why a lot of the cancer research in this area concentrates on liver cancer. I'm curious though as to why this is a particular problem in this region, but sadly didn't get chance to ask.
Over lunch, I was sitting next to a guy who works in the 101 Tower, which I want to go up this week as I didn't get the chance last year. He reckons that today will be a good day as it is forecast to be sunny. After lunch, I had a wonder to see if I could find the new Le Ble d'Or bar, as it was meant to be in that area. I failed but checked their web site when I got back to my hotel and discovered it is in the building next to the one I was looking in. So, better luck on that tomorrow hopefully.
That night, I went to pay a visit to the Taiwan Beer Bar, which is the brewery tap of the country's biggest brewery - Taiwan Tobacco & Liquor (TTL). The wall outside the bar is made of metal kegs.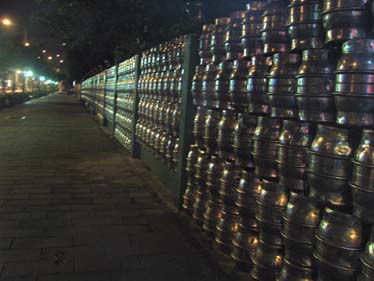 The bar was shut so I asked at the gatehouse to the brewery when it would be open, and was told it had been replaced by a bar called 346, which is inside the brewery itself. So, in I went and found it inside an old warehouse. It was quite a pleasant beer hall, a pity that the lagers TTL produces are so bland.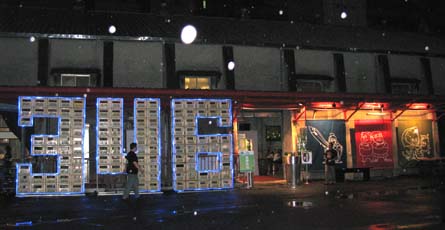 While drinking, I read in the free magazine - Taiwan Beer Life - that they have created an non-alcoholic drink that tastes of beer. I couldn't help but think maybe they should concentrate on getting their alcoholic drinks to taste of beer first.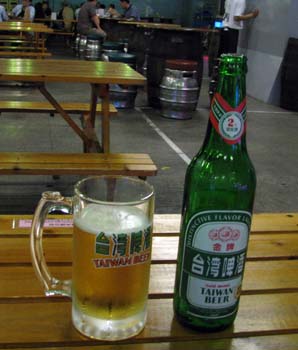 The beer hall had the same odd payment system as the old bar, that is you go to one bar, order and pay and then get a coupon that you take to another bar to get your beer. If there is a group of you, you can order a small barrel to be placed on your table.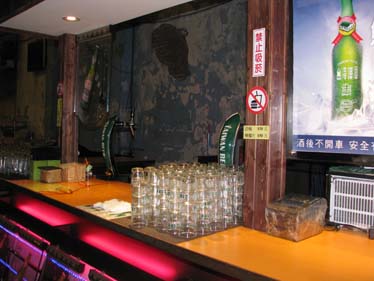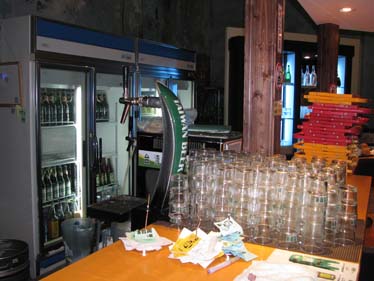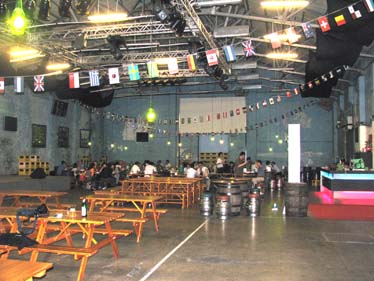 The magazine said they recently held a beer festival as well.
This brewery seems to do a lot right, just a pity about the beers they produce.
After 346, I headed for a walk round the Shilin night market. I didn't buy much, just some CDs, and then took a taxi to Jolly for a final drink before bed. I was really tired.
Wednesday 8 October
This morning, I took a little time off to go up the 101 Tower in Taipei. The observation gallery is on the 89th floor and the ticket booth is on the fifth floor. The lift between the two takes just 37 seconds, and that is fast. The 89th floor is 392m above ground and the view is amazing, especially as it was actually sunny at the time (it is rainy here most of the time).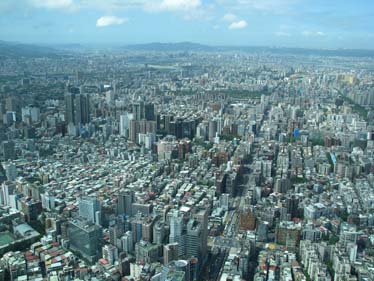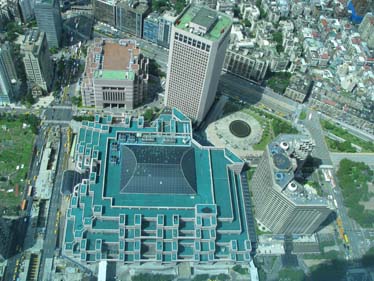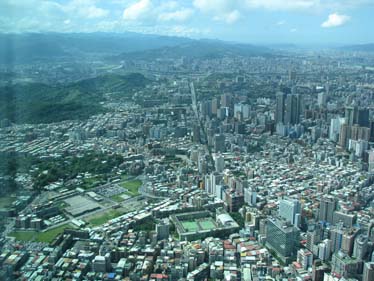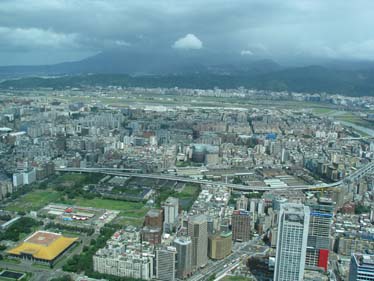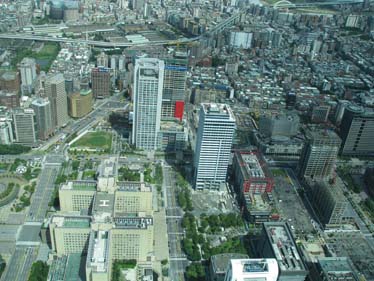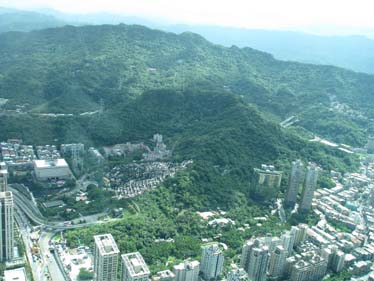 Inside the tower is a chamber with a large, and I mean large, weight that is meant to keep the tower stable.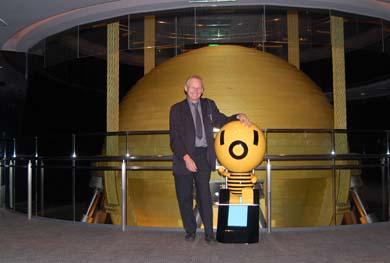 Later I went shopping , not exactly shopping, more like drinking beer in shopping malls. In the area round the 101 Tower and the World Trade Centre are a number of large shopping malls, and more are being built. I think the aim is to make this area the main shopping zone in Taipei.
Each mall is given a letter and a number and it was Mall A11 that I headed to visit the recently opened branch of the US beer and restaurant chain Gordon Biersch. The bar is one floor up on the mall and had six beers available, all brewed in Taipei.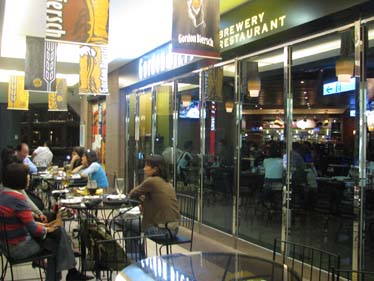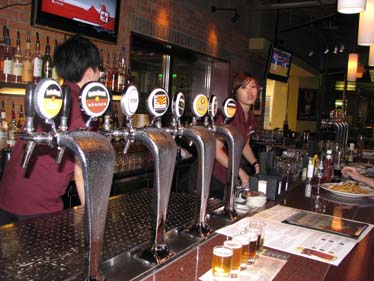 I talked to the assistant general manager Jimmy Fang, and he confirmed that there is this weird Taiwan law that stops them brewing on the premises. Apparently this is because a brewery is classed as a factory and the health and safety rules mean you can't serve food from a factory, or something like that.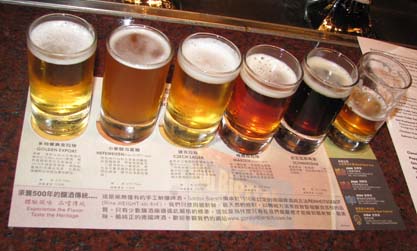 The first beer I tried (these were all sampler sizes) was a seasonal beer brewed to mark the German Oktoberfest. It was 5.7% and called Festbier, and was light and hoppy, very refreshing.
Next was the Schwarzbier at 4.3%. This is a dark beer with a roasted bitter flavour.
The Golden Export at 5% is a pilsner, with a light taste and not as bitter as the Festbier.
The cloudy Hefeweizen at 5.5% was a very sweet and full-bodied wheat beer.
At 5.6% came the Czech Lager, very bitter, very hoppy, light coloured with a dry aftertaste.
Finally, the Marzen at 5.7% was a red beer that tasted more sweet than bitter.
In the same shopping area is the Esilite Xinyl Store, an odd looking tower filled with shops. One of the two basement floors contains the new location of Le Ble D'Or.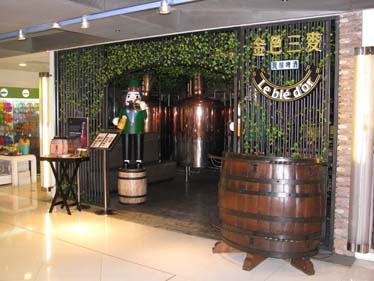 This is a much bigger bar and restaurant than their old premises that I mentioned earlier in the week have now closed. It also has live music.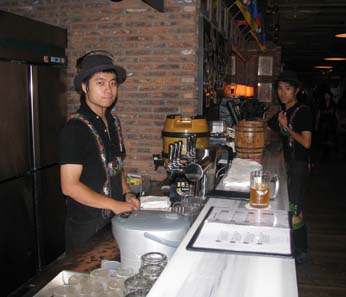 They had four beers on:
Lager at 5% was bitter and refreshing.
Hefe-Weisbier also at 5% was sweet and sharp.
Honey Lager at 4.5% was a light cloudy beer, ridiculously sweet and a little sickly.
Dunkel at 5% was a very dark beer with a roasted bitter hops taste.
After walking round the Huaxi Street Night Market that night, I then headed for a nightcap at Jolly. The taxi driver who took me back to the hotel went the wrong way and drove past Brass Monkey at 166 Fushing Road. I'd heard about this bar but never been to it, so I got out the cab and paid it a visit. This a beer hall and sports bar with pool table, table football, that sort of place.
At first glance, the beer looked nothing special with the likes of Boddingtons, Stella Artois, Carlsberg, Erdinger Weisbier, Guinness and Hoegarden on tap. However, it redeemed itself with an impressive range of international bottled beers including Chimay and Duvel from Belgium and Anchor Steam from the USA. The Chimay was even served in a proper Chimay glass.
Thursday 9 October
I had a company to visit in the morning and then headed for the exhibition in the afternoon, so a boring workday for most of the day. One highlight at the exhibition was a local company that had made sculptures of flowers and plants out of electronic components.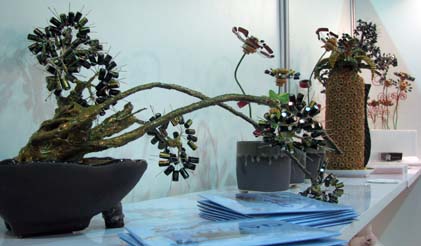 Late afternoon, I took a cab to the Miramar centre, which is where Taipei has its own big wheel - London Eye type thing but with smaller carriages. I even called Tracey from the top. The view was splendid.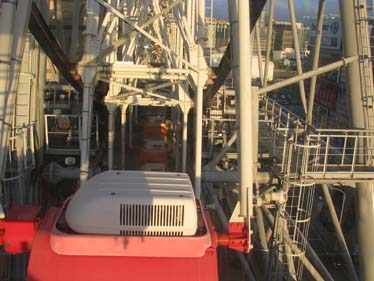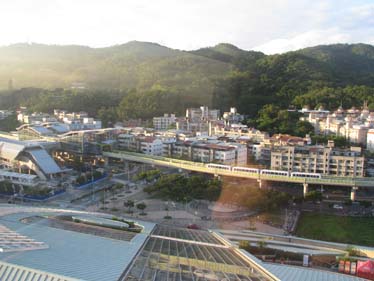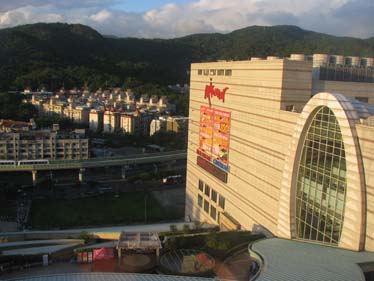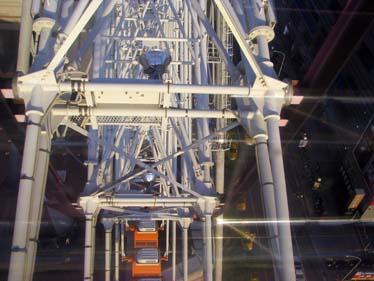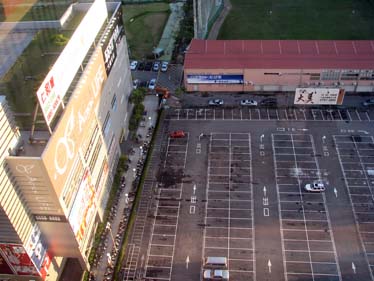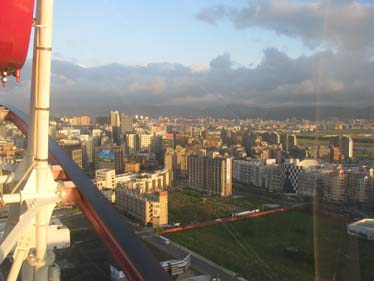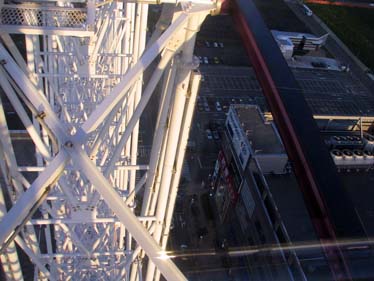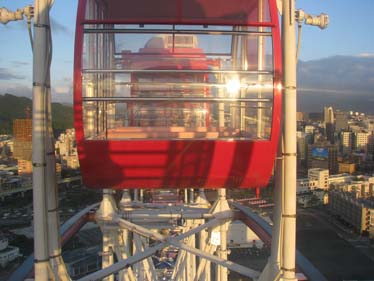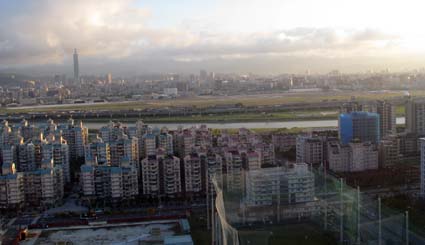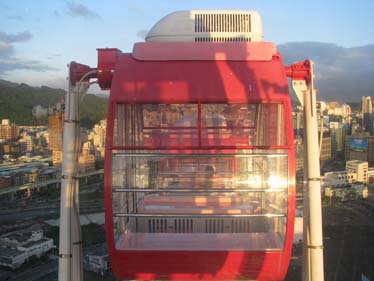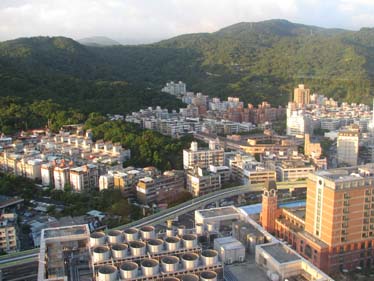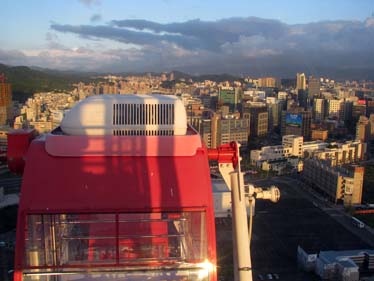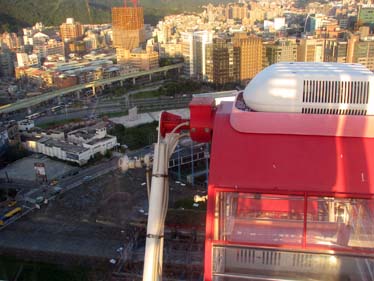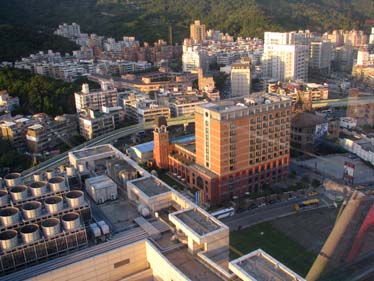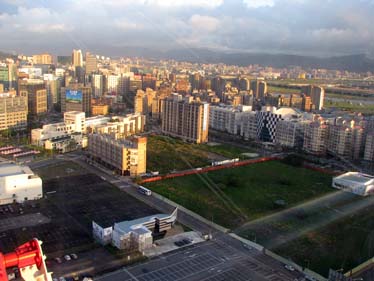 The shopping centre below it is also the home of Le Ble D'Or's other bar in Taipei. I took some photos of it but it was a bit too early for a beer.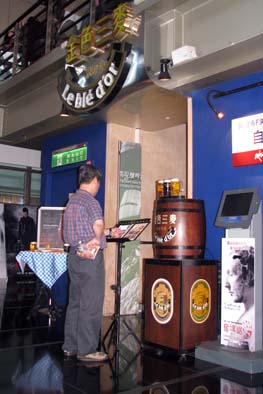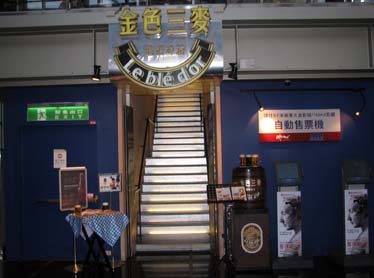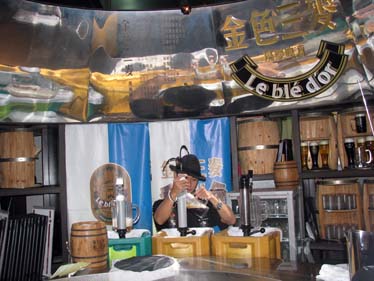 That night I decided to try Brass Monkey again, but it was packed. Apparently it was Ladies Night, which means women get free drinks and so there were loads of women and men in there. I went for a quieter drink at Jolly and then went to play some pool at My Place.
Friday 10 October
I got up rather late and missed breakfast, so I headed to Huaxi Street Market and had snake soup for lunch. I spent the rest of the day wondering round shops as I didn't really need to go to the exhibition again - I had all I needed for the articles I was writing. I discovered a football stadium.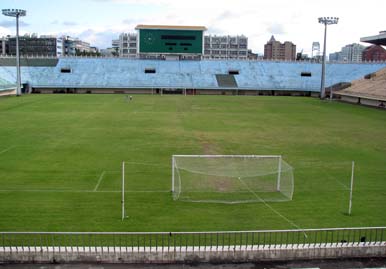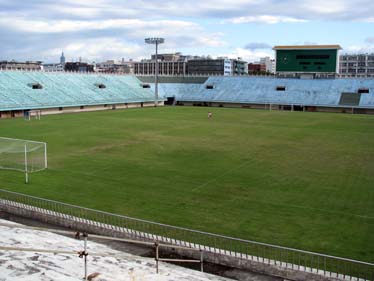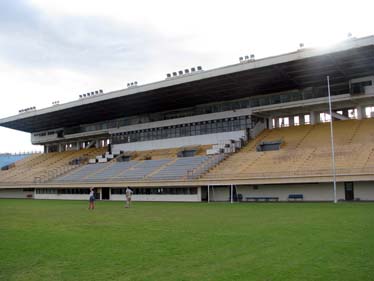 I drank my birthday in in local time at Brass Monkey and My Place.
Saturday 11 October
My birthday. Woke this morning (well, nearly afternoon) with a thumping headache, which I took with me to the exhibition and managed to do the last bit of work that needed doing this week. This afternoon, I wondered round a jade and flower market near the hotel. Not going out this evening - I have a taxi booked for 6am tomorrow to take me to the airport and an early call at 5am, so hitting the bars tonight would carry the serious risk of missing the plane.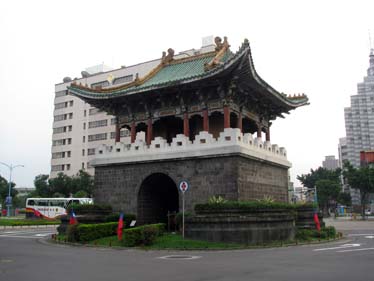 I ate at the hotel's Chinese restaurant this evening and had a Singapore Sling and Michelob Classic dark beer to wash it down with, so that will have to do on the alcohol front. This is a picture of the carpet in the hallway outside my hotel room.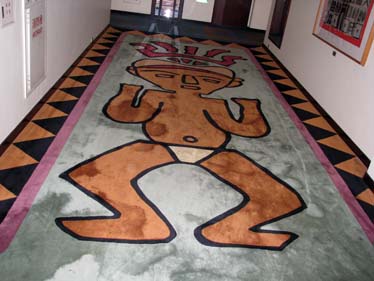 Sunday 12 October
I arrived back at Manchester Airport. My luggage didn't.

---