Drinking beer in Yokohama
A diary of some of the best bars in Yokohama
28 August-3 September 2007
Tuesday 28 August
My first taste of Japanese beer happened Tuesday afternoon. This was at Kirin City on Minato-cho, a downstairs bar that served five beers from the Kirin brewery. I opted for the dark beer at 5%, which was fairly uninspiring. Actually, a bit bland to be honest.
I found a nice food court near the hotel that afternoon where I had a spicy noodle soup dish with a lump of pork in it.
Tuesday evening, I decided to try out a few pubs for Wedensday evening's pub crawl that I was organising. I started at the Spring Valley brewery, part of the Kirin Brewery Beer Village. This is a brew pub within the brewery grounds. If you go during the day, you can have a tour of the brewery.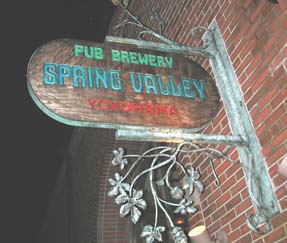 There were eight beers available, four of which were brewed on the site. I started with a light Kirin pilsner style beer and then went on to the season ale, which was called Himawari at 5.5%, and tasted much the same as the pilsner I tried first. I also noticed you can get a light and dark mixed, obviously some Lancashire influence here.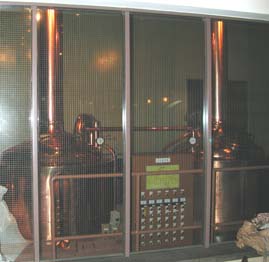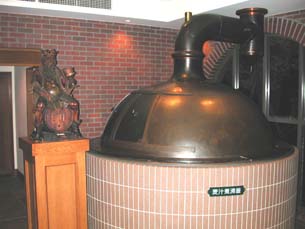 Brewing equipment at Spring Valley
My next venue was Cheers on Tsuruyacho near Yokohama railway station. This describes itself as a European beer house and does have various European beers including keg Old Speckled Hen and the much-hated John Smiths Extra Smooth. It also has some gems, including beers from Germany and Belgium, and, more importantly, some draught Japanese beers.
I started with the Ikiiki, a cloudy red beer at 5%. I only had half a pint, but it grew on me as I drank it.
Next up was one of two beers from Baird Brewing. This is a Japanese brewery set up by an American. I couldn't translate the names of the two Baird beers I tried, but the first was the 4.7% one which was again cloudy, but had a light lager colour. It was slightly fruity with a sharp bitter aftertaste. The second at 5.2% was a blonde beer, a bit like a Czech pilsner.
Dede at Cheers
The barman Dede - who makes his own cookies - told me of another nearby drinking house called Thrash Zone. Despite having a hand drawn map, I still got lost but eventually found it. This was an upstairs bar, quite small and specialising in Japanese craft beers. I think this is probably one of the best bars in the world, yet it would be packed with 15 people. There are seven local craft beers, including two on English style handpumps that are cask conditioned - in other words, real real ales.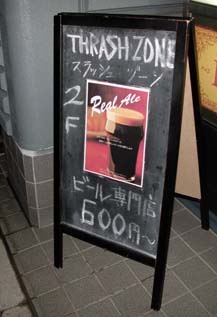 I started with Baeren Classic, a standard German style pilsner at 5%. Next I tried one of the cask conditioned beers - Minoh Beer, a 5.5% pale ale, a straight-in-your-face bitter, not subtle at all, but very nice.
The owner of the bar - Koichi - told me he opened the bar a year ago to sell Nagahama Ale, which is brewed near Biwa Lake where he used to fish. It is 5.5% and made with cascade hops. It was a little too fizzy for my liking, but with a bitter finish.
Finally, I finished up at the bar of my hotel (Intercontinental Grand Yokohama) hoping I might find a few fellow SF fans, but there were only four other people in there, none of whom looked SFy. I tried a glass of Asahi, one of the Japanese national beers. This was a 5% totally bland lager.
I then had a bottle of a Yokohama beer called Black Sheep Pale Ale. The label was all in Japanese, so I couldn't work out the strength. It was lighter than the Asahi, and a reasonable bottled ale that would be nice to sip while watching telly.
Wednesday 29 August
The pub crawl attracted 16 people, though one dropped out before we reached the first pub and another dropped out after two pubs, but 14 did the whole crawl. We visited the same three I did the previous night:
Spring Valley (brew pub attached to Kirin Brewery)
I tried three different beers and a plate of German style sausages. The first was described as an English pale ale at 5% and was very refreshing and inoffensive. Next up was a Dunkel style Belgian dark beer, also at 5%. And I finished with yet another 5%er in Heart Round, a dull light pilsner with a slightly metallic taste.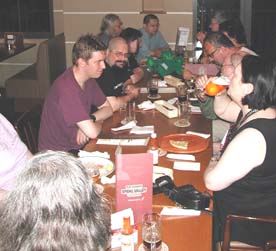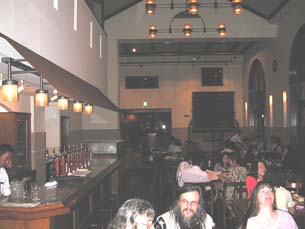 The pub crawlers in Spring Valley
Cheers (Tsurugacho 3-32-14)
I started with Hideji, which means Golden Fox. This was 5% with a strong slightly sweet flavour. I tried one of Dede's home made cookies, which was a bit like shortbread with a cashew nut on top. I then had a very nice bottled beer called Owa and served in a Japanese pottery beaker. The beer was very bitter and Dede wouldn't let me buy the beaker because the brewery had only given them a small number.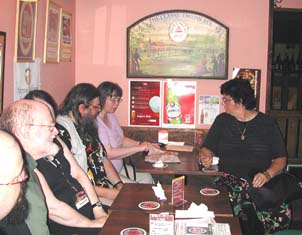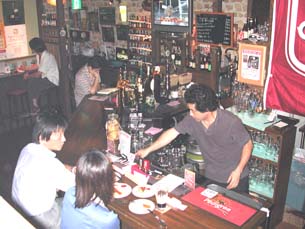 Inside Cheers
Thrash Zone
I went for the other British handpump to the one I had last night. This contained AJI, a cask conditioned gentle stout from Osaka. Next, I tried Dragon Ale, dark coloured with a bitter-sweet taste. Herun Pale Ale was a fizzy bitter beer. And finally I had Inawashiro-Ji-Beer, a nice weizen.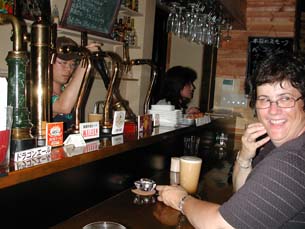 Inside Thrash Zone
Thursday 30 August
There was a party Thursday night, a joint one for the two site - Montreal and Kansas - that were bidding to host the 2009 Worldcon (Montreal won). Kansas had canned Yebisu (5%) beer - would have been nicer bottled and not kept in a tank of ice, it was far too cold.
I went exploring starting with a bar called Konishi (1-43 Hanasaki-cho, Naka-Ku). They had three beers on draught - Asashi, Asashi Black and Miller Special from the US. I tried the Asahi Black, which was a smooth beer with a little bit of flavour, but not much.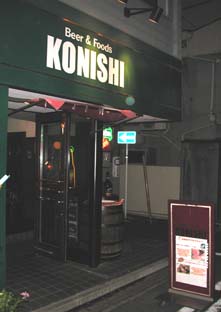 Next up was Le Temps Perdu (Nogecho 2-78). This is a Belgian beer bar, It had two Belgian beers on draught - Leffe Blonde and Grisette wheat beer - and two Japanese beers - Premium Yebisu and Yebisu - plus lots of bottled Belgian beers.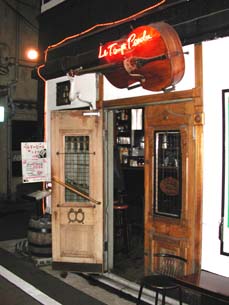 I started with Premium Yebisu, a dark beer with a slightly roasted flavour. The ordinary Yebisu was much better than the canned version I had earlier. I also tried the Grisette, which had travelled almost as far as me to get there.
It was a small cozy bar playing nice jazz music over the speakers. I got chatting with a man at the bar called Junichi. I asked him about who was good in the local jazz scene, and he recommended Shimizu Midori. The woman behind the bar put one of her CDs on. Junichi said that you couldn't buy this in the shops as it was really local. A woman called Hisako said she could get me one but it would take a couple of days. I asked if I could buy the bar's copy and she could replace it. They talked together in Japanese for a while, and then Junichi gave me the CD and said he'd bought it for me as a present - overwhelmed with Japanese hospitality.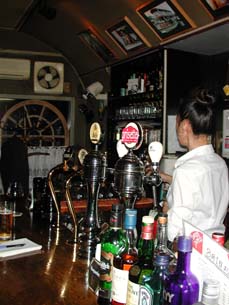 Inside Le Temps Perdu
We finished the night at a jazz bar round the corner called Jazz Spot Dolphy, where I drank bottled Kirin Lager Beer. This bar does do live music and I popped back later in the week to hear some.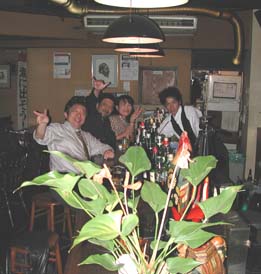 Jazz Spot Dolphi. Junichi is on the far left.
Friday 31 August
I was one of five intrepid explorers in search of the Craft Beer Bar. We'd been told about it earlier in the week in Thrash Zone, and actually two of the regulars from that bar turned up while we were in there.
It was a little tricky to find as it is on a side street not on my map off Kannai Sakura Dori Avenue. Feorag's knowledge of Japanese came in handy as she had the address in Japanese and was able to enlist the help of the woman serving at a Seven-Eleven store.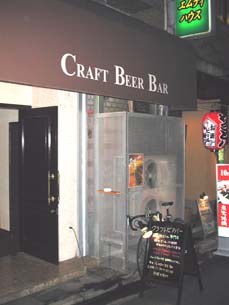 The bar had eight keg pumps and two British style handpumps, but unlike Thrash Zone, no pump clips, just a blackboard menu in Japanese.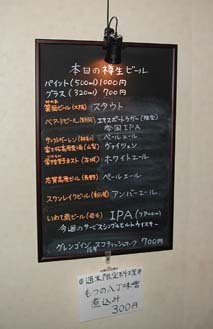 We discovered that one of the two handpumps was not on but the other was serving a nice bitter real ale, which also ran out during the night thanks to our efforts. Between us, we tried at least one of all the other beers, which were a mix of IPAs and pale ales, plus one stout, a white beer, a weizen and a lager.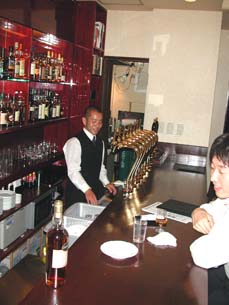 On my return to the hotel, I went round some of the con suite parties, though none had any beer left. Managed a bit of food before retiring.
Saturday 1 September
I headed for the Dolphy jazz bar again, via a quickie in Le Temps Perdu. At Dolphy, there was a three piece playing based round pianist Masahiko Satoh. On double bass was Shinicki Kato. I didn't get the drummer's name. They were later joined by female vocalist Uesugi Akiko. I bought two of the CDs they had on sale afterwards and got the relevant autographs.
I then headed back for the hotel to tour the parties, but it was sweltering hot - the air con was on full but couldn't cope - and they'd all run out of beer, so I retired to my room.
Sunday 2 September
A group of us went to the fair last night and tried the normal roller-coaster type rides before heading for Beer Next for a meal and a couple of drinks. Beer Next is in a shopping mall called Red Brick Warehouse, and it looks exactly like its name.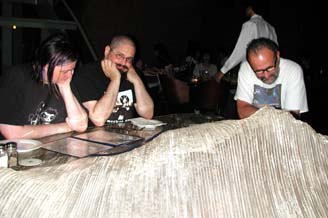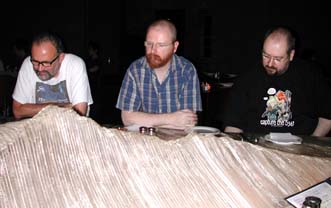 I started with a Heartland, a light, fizzy beer, followed by Kirn Ichiban, a fairly bland but inoffensive lager.
Monday 3 September
There was one pub that had been recommended to us during our stay that I hadn't got round to visiting, so, as I had some time to kill this afternoon, I headed for the Green Sheep, an Irish pub that also serves Japanese beer.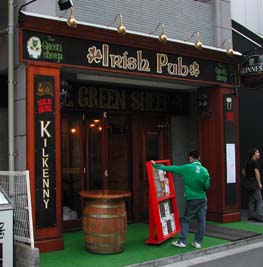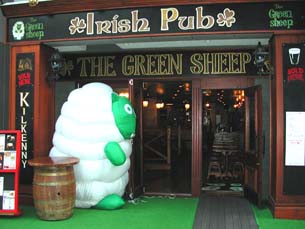 And among the Kilkenny and Guiness, there were two keg Japanese beers plus a handpump serving Yona Yona real ale, which had a bitter-sweet taste that seems to be characteristic of the Japanese ales that I've tried.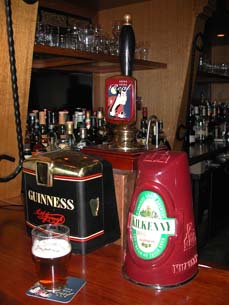 The beer mat also gave this web site.
I got back to the hotel, showered, changed and headed for the Dead Dog party, which was a cracking affair with lots of free beer and food. I had to stifle my indulgence due to booking a 5.30am wake-up call tomorrow, which I need to make my flight.
Tuesday 4 September
At Tokyo Narita Airport, I drank a glass of Sapporo beer waiting for my - delayed - flight home.
Links to the other two pages of my pictures from Yokohama:
World Science Fiction Convention

---