Phuket, Thailand - page one of four
14 to 30 January 2014
Tracey and I had a winter holiday on the island of Phuket, Thailand, the first visit for both of us to the country. The pictures are a mix from both of us.
Tuesday 14th January 2014
We flew Etihad from Manchester to Abu Dhabi – nice food but the seats were not that comfortable – and Air Berlin from Abu Dhabi to Phuket – the seats were more comfortable but the food was worse.
Wednesday 15th January 2014
We arrived at Phuket in Thailand at about 7pm and got to our hotel – the Kamala Beach Resort – not long before 8pm.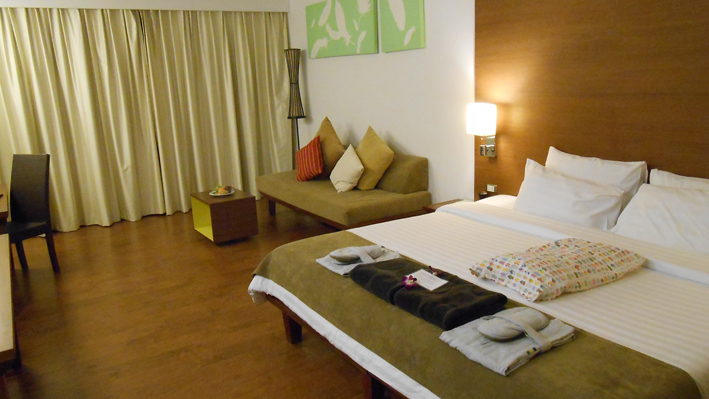 We were both tired and hungry, so we had a brief meal at the hotel and then a short walk along the front. This was quite nice, there is a little mini-market along the front from our hotel, with stalls, shops, bars and restaurants. We then had a drink in the hotel bar – the local Chang beer, which is not much to write home about, for me and a cocktail for Tracey – and Tracey headed for bed about 10pm.
I was still awake, so had a shower and headed back to the front and Bob's Bar.
This is a reggae bar named after Bob Marley. It was quite pleasant, sand floor (it is on the beach), tables, pool table and so on. I sat at the bar and had a Tiger beer. One beer was enough and then I headed for bed about 11pm.
Thursday 16th January 2014
Tracey and I sampled the hotel breakfast this morning, which was a nice buffet mix of Western and Eastern styles. We were then given a briefing by holiday rep Tom about where everything was in the hotel and nearby.
This actually took us up to lunchtime, rather surprisingly. We then headed for the beach and a swim in the sea; Tracey stayed in the water a lot longer than me, I retired to the beach bar for a beer and a read. My holiday book was Stonemouth by Iain Banks.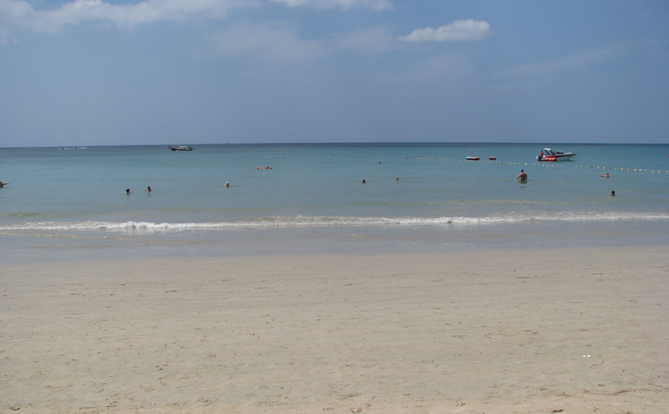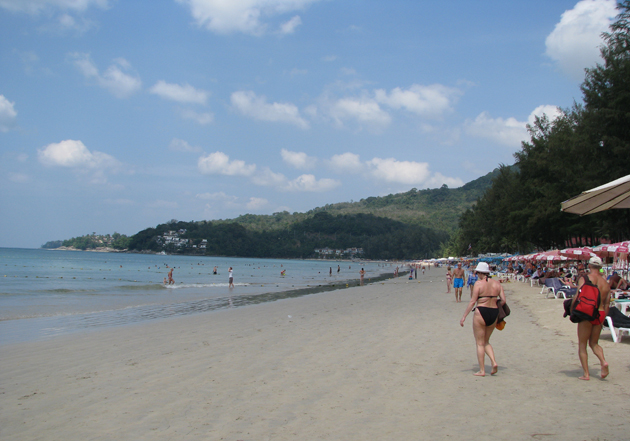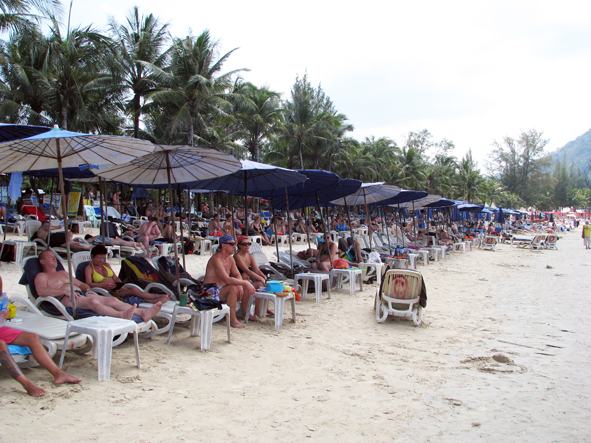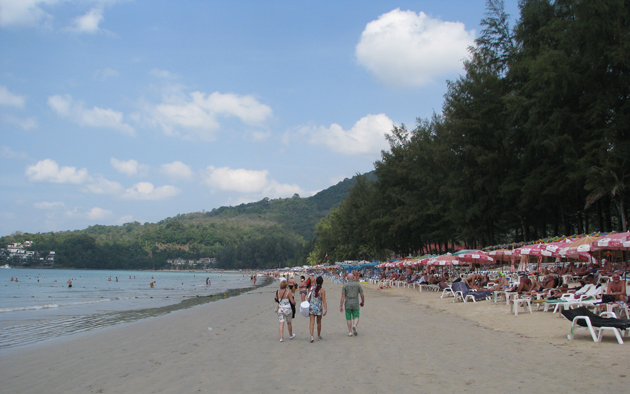 A sign reminded us what we couldn't do in the beach showers: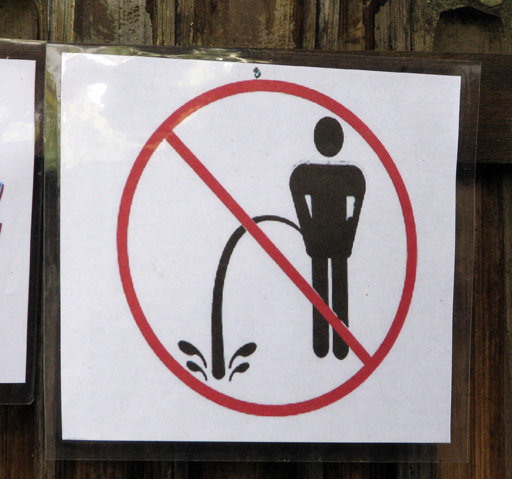 Thursday evening started with Tracey and I enjoying cocktails by the beach while we watched the sun set.
It was a little noisy due to insects known as cicadas in the trees making a right din. We then had an evening buffet meal in the hotel's beach side restaurant while listening to the band...
...and enjoyed a stage show of traditional dancing.
After dinner, Tracey and I wandered down the front to have a drink in Bob's Bar, where I'd been the night before, but despite it only being about 10.30pm the bar was already closed.
We spotted a guy having a foot fish massage...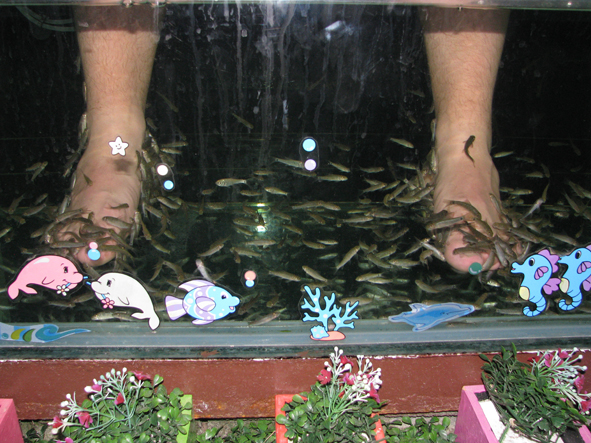 ...and a reminder about what happened here in winter 2004:
We settled for drinks at Boom Boom Bar on the beach...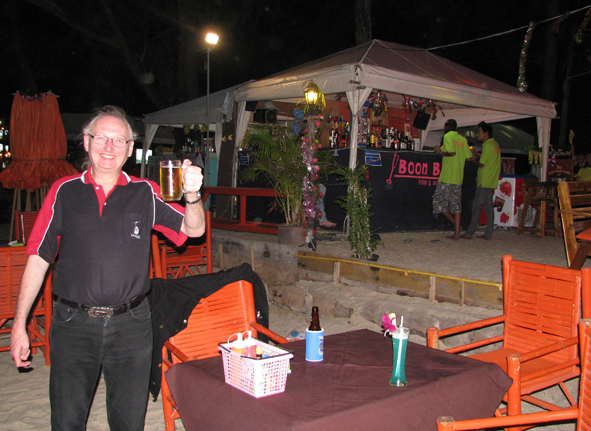 ...where Tracey set off a Chinese lantern.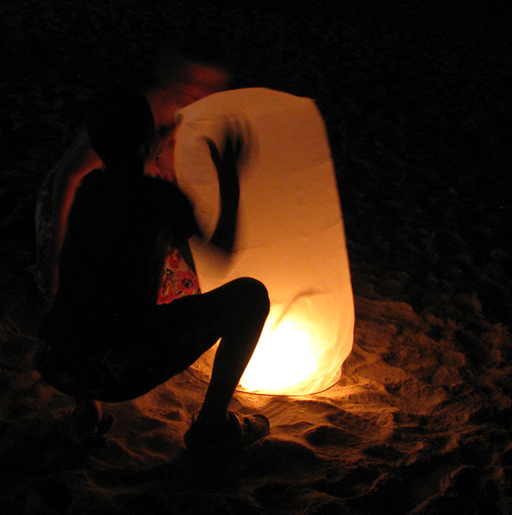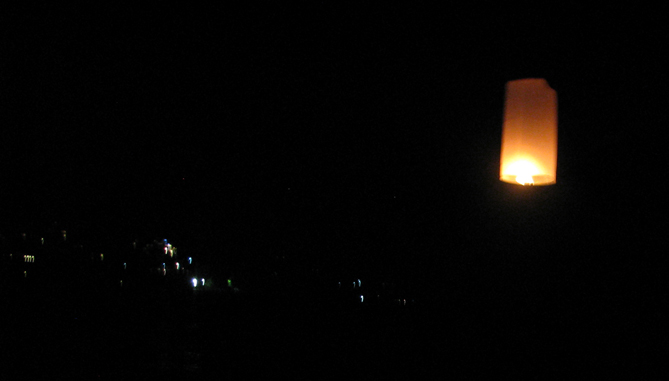 While in search of late night snacks, we discovered Kamala village proper, an area full of bars and a lot more lively. We had another drink there, before buying chocolate at the Seven-Eleven and heading back to the hotel.
Friday 17th January 2014
After breakfast, Tracey and I went on organised half-day tour round the southern half of Phuket. The minibus took us south from Kamala along the western coast through Patong, Karon and Kata to two vista points in the south-west corner from where we had a splendid view over the bays and beaches.
We also spotted a lizard.
After, we were taken north along the eastern coast past Rawai Beach to Wat Chalong, a Buddhist temple.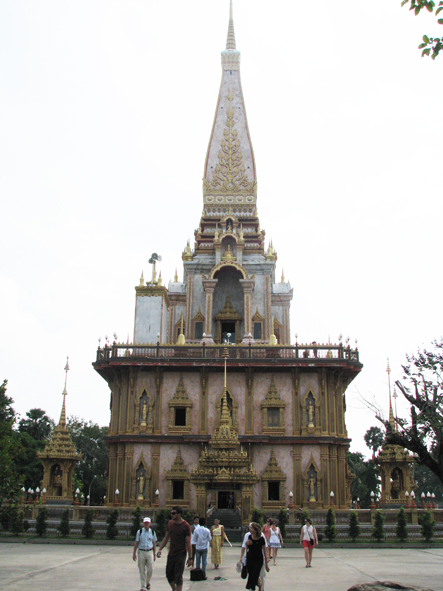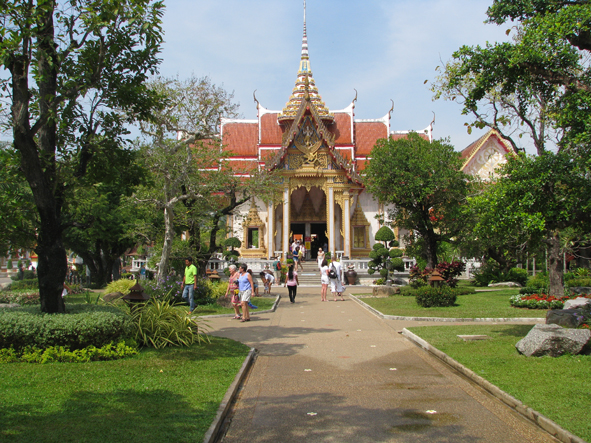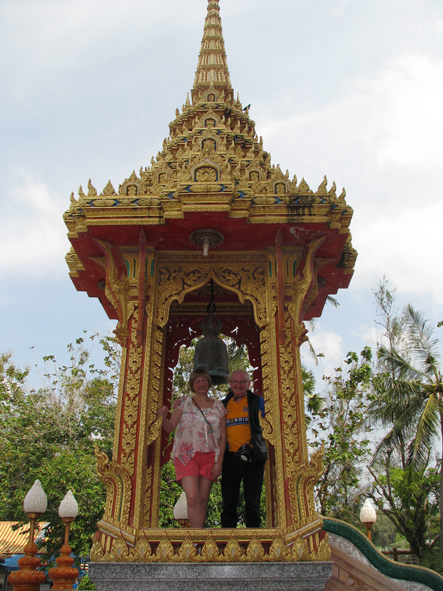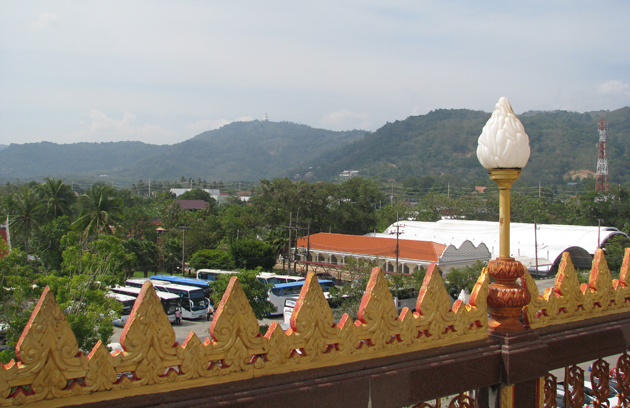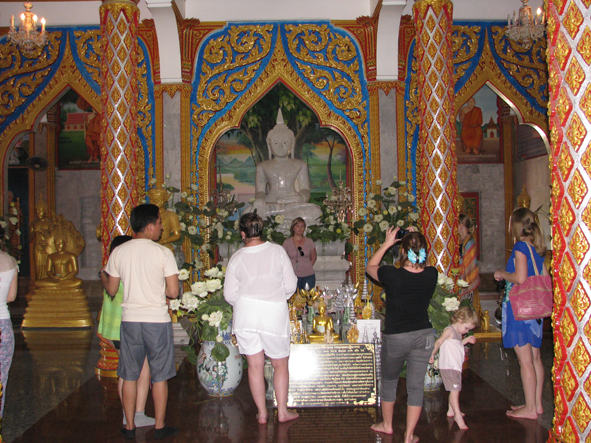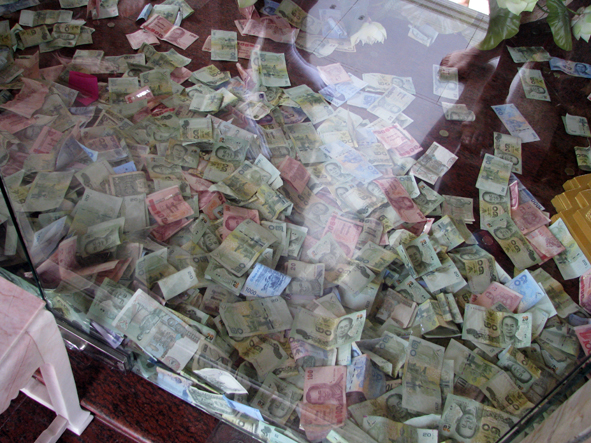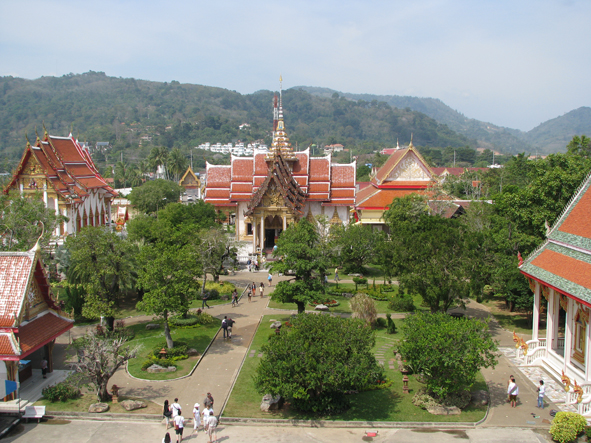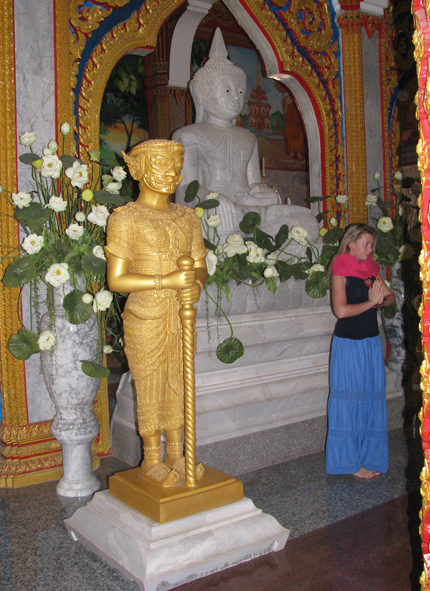 One of the signs there instructed us not to "hug the Budda".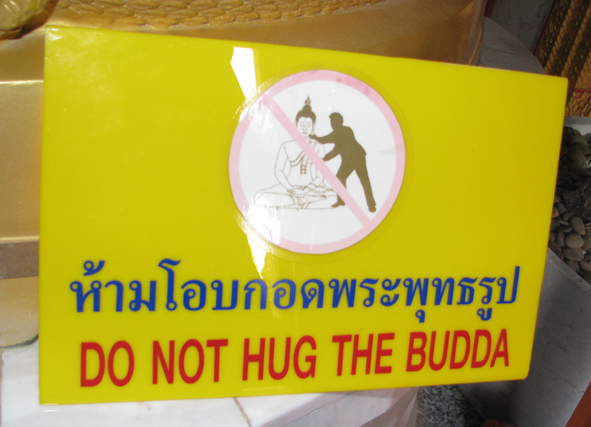 Hugless, we proceeded to a cashew nut factory, and sampled various nut flavours – I quite liked the chocolate coated one – and, oddly, pork scratchings.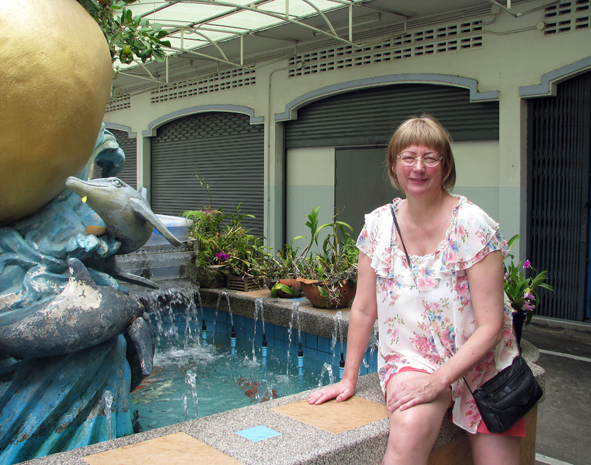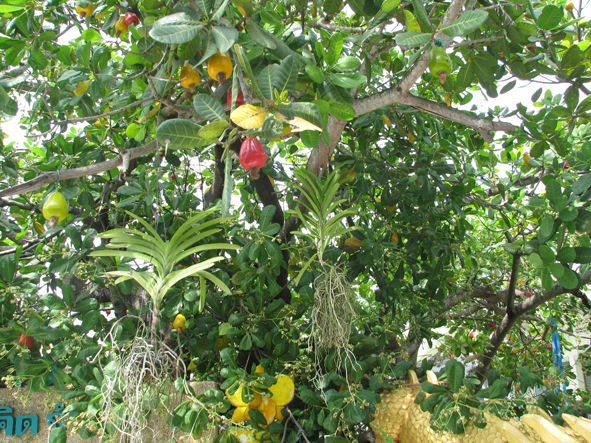 That was the last call and the minibus took us back to the hotel, again via Patong, in time for lunch.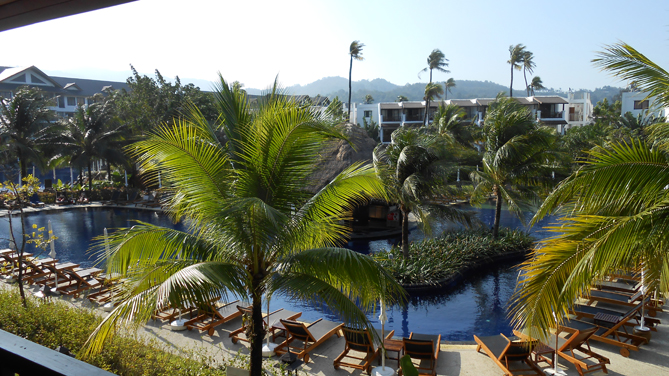 A reminder of why our hotel is so quiet:
As well as the Chang mentioned earlier, the hotel also serves another local beer called Leo. Though weaker than the Chang (five per cent versus six per cent abv), it is a lot more palatable, tasting more like a refreshing German lager.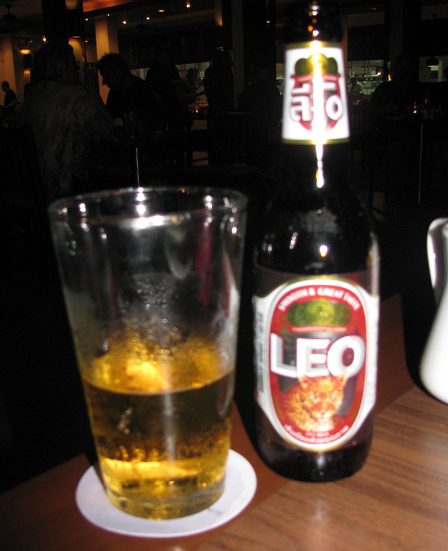 Friday evening, Tracey and I had a look round a night market that had set up next to the hotel. It was quite large for a mobile market. We then visited an open-air music festival that is also on this weekend and near the hotel. It all looked very civilised with people sitting at tables rather than on the ground.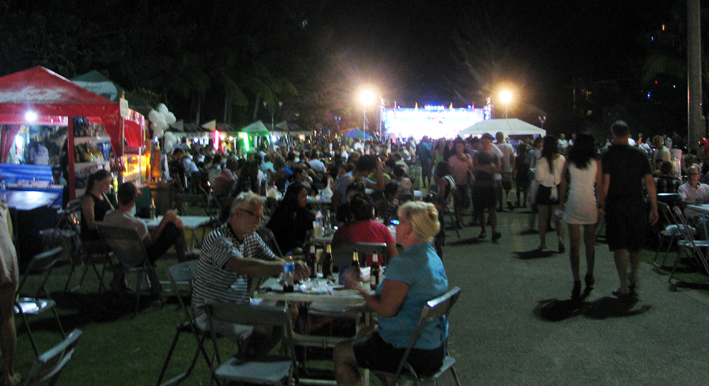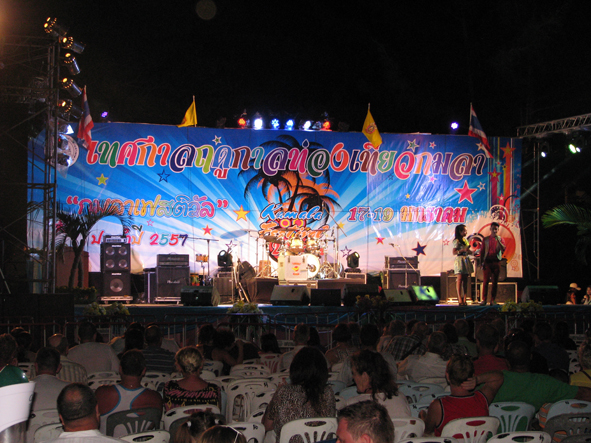 On then to visit some bars. We started at a little pub called the Banana Bar. We then went in search of the Aussie Pub we'd seen a few times from the minibus and found it.
We had quite a laugh in there, especially when Tracey was told that it was also a so-called girlie bar in that the friendly waitresses were all available for hire. I was more impressed by the fact that they had a decent German beer. Back to the hotel, and Tracey went to bed but I wandered off to Kamala village and did a bit of a pub crawl. In one, I got happily chatting to two guys, one from Norway and one local. I went to pay my tab after three beers and the guy from Thailand said he owned the bar and said my beers were on him. I got back to the hotel in the small hours, very drunk.
Here's an article I wrote about the bars around Kamala Beach.
Saturday 18th January 2014
We have had a lazy day on the beach and swimming in the sea. Tracey was disappointed to spot two jellyfish in the sea, especially as we'd been told there weren't any about.
Saturday evening, and Tracey and I headed for Patong. We were taken there on a rickety shuttle bus, which took 40 rather than the expected 20 minutes due to heavy traffic caused by people heading for the infamous nightlife spots.
We started off with a gentle drink at the Full Moon Brewwork, a combined microbrewery and pub in the Jungceylon Shopping Centre. They do three home brews – Phuket lager (5%), Oriental Wheat (5%) and Andaman Dark Ale (5.5%) – all of which have some local ingredients. The bar also serves a range of craft beers from around the world as well as the local lagers. I had a glass of the Andaman, which uses five hop varieties, including Willamette from the UK. The malts are a blend of German caramel malt, chocolate malt, pilsner malt and Thai black sticky rice from the Sao-Hai paddy fields. This was dark red and cloudy with a slightly tangy flavour and very yeasty. It was not as rich as I was expecting, but very refreshing for a dark beer.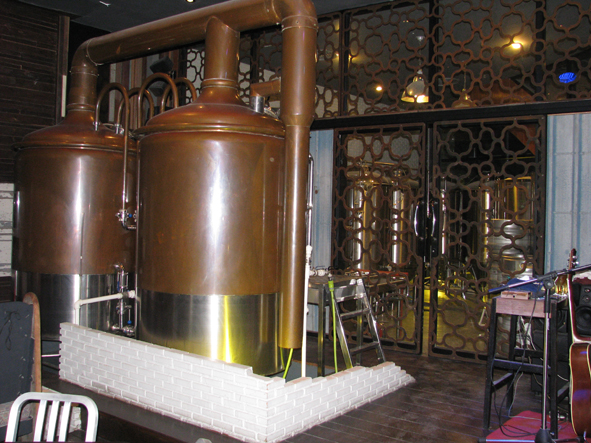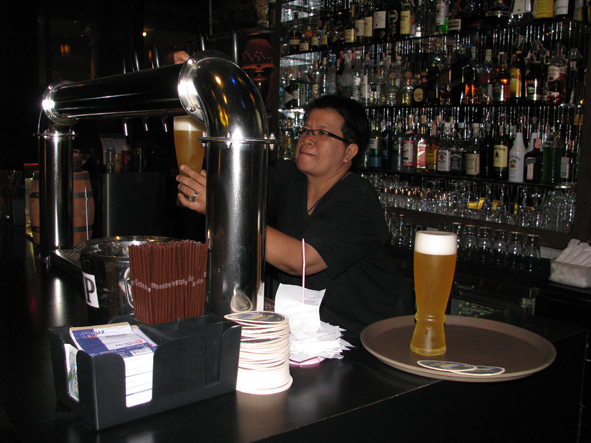 Here is an article I wrote about Full Moon Brewwork.
We only had two to three hours before the return bus so we headed for the infamous walking street to see the various sexual attractions. It was very crowded and we kept getting asked if we wanted to see the Ping Pong Show (we still don't know what it is but we can guess).
We tried a couple of the bars, saw various lady boys walking up and down (Tracey had a cocktail called Lady Man) and Tracey played a bar girl at Connect Four – a very popular game.
While we were sitting outside U2 bar (which became one of our favourites)...
... a young woman came up to us selling stitched wrist bands. The names woven into them were famous places, countries, football teams, that type of thing. I jokingly asked if she had "Shrewsbury Town" and she said she could make one in ten minutes for 100 baht (about two pound). And she did, and in the correct colours. Very impressive.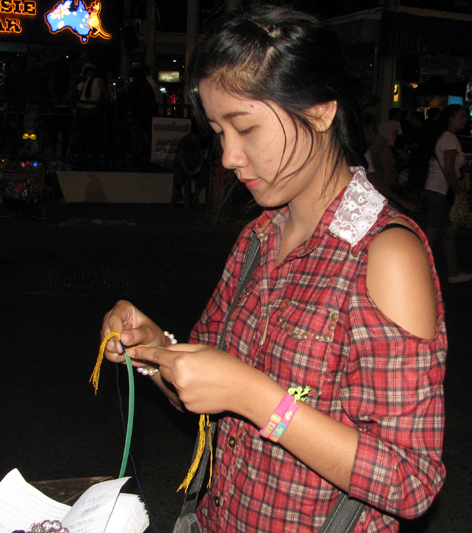 Sunday 19th January 2014
We went on an organised trip this morning to the Bangpae Waterfall and the Gibbon Rehabilitation Centre (GRC).
The gibbon population had virtually disappeared into Phuket due to locals shooting mother gibbons to steal the baby and then using that to make money from tourists wanting their photo taken with the cute little bear. When the bear grows up – to about five years old – it gets aggressive and is killed or set free, but doesn't last long as it is not geared to surviving in the wild. This practice was outlawed 20 years ago but still goes on. The GRC takes in the baby gibbons that are rescued from these operators and tries to help them grow up, mate and survive. It is hard work, as many have illnesses and personality disorders that make survival difficult for them. But they now have a small number of mating couples and are working hard. You can find more information from their Facebook page.
Afterwards, we went on a hot and sticky trek up a difficult path to the Bangpae waterfall, which was nice but nothing that special.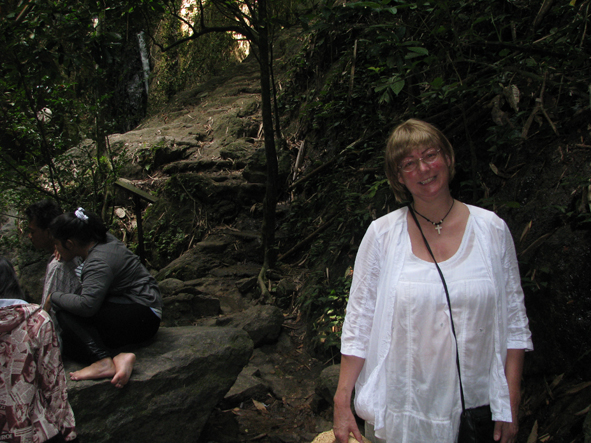 Exhausted, we were taken back to the hotel (with a quick stop to look at a rubber plantation) where we had some lunch and then a swim in the sea to cool down.
Sunday evening, Tracey and I went for a walk along the front, had a drink in Bob's Bar, then something to eat. Tracey was feeling tired, so she had an early night. I headed for Kamala village for a few more drinks while watching Chelsea versus Manchester United.
Here are more pictures from Phuket.
Here are pictures from the The Beach island tour.
Here are pictures from the James Bond island tour.
.

---