Drinking beer in Rome
A diary of some of the best bars in Rome
20-24 June 2007
Wednesday 20 June
This started as a work trip and as such on the first evening we were taken to a posh restaurant with a gorgeous view over the city. The food was beautiful - an incredibly tasty pasta dish followed by rolled beef - don't know what either were really called. It was amusing convincing the waiters that I really wanted beer not wine with my meal, but once done they came up with the 150 year anniversary blonde beer from Birra Menabrea.
Thursday 21 June
After a bite to eat on Thursday evening (yes, I did have pizza), I set out in search of beer, starting off at a bar recommended in the Lonely Planet City Guide. This was on Piazza Testaccio opposite the market, and called L'Oasi Della Birra, and claims to have over 500 beers from around the world. It was like a alcohol museum, with bottles of wines and spirits lining the walls. I sat down and asked for the beer menu. This was a big leather bound book; the Belgium section alone ran for pages, but I was after Italian beer so ordered a Del Borgo Re Porter.
This was a dark porter as its name suggests and bottle conditioned, but it wasn't cheap at twelve euros for a 75cl bottle. Nice beer, but the place was too expensive to hang around in, so I left after one drink to start a beer adventure that would include me meeting the brewer from Del Borgo.
First, I headed for Brasserie 4:20 at Via Portuense 82, (Portaportese). This bar had only been going three months, and had a very rare sight in Italy - a hand pump.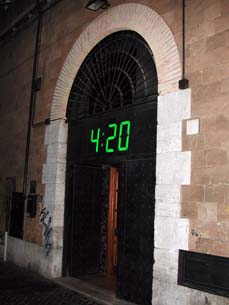 Braserie 4:20
The owner - Alex - who I met is very into beer. He's even a member of Camra and was mentioned in an article in the May 2007 issue of What's Brewing. He has a range of keg dispensers as well, and these hang from the roof of the bar. The beer is from various European countries including two from Italian brewery White Dog.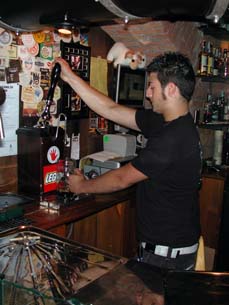 The handpump at 4:20
The two White Dog beers are Best and Stout (made with a mix of fuggles and golding hops) and he alternates between which has the hand pump and which is gas pumped through the hanging dispensers. There is also a White Dog Golden, but that wasn't on that night.
I started with the White Dog Best (4.8%), which was gas dispensed, and cloudy. I asked Alex about this. Apparently the brewer doesn't use finings (good news for vegetarians) so the sediment is permanently mixed with the beer to give a yeasty flavour. The beer had a slightly reddish colour and tasted like a good bottled English IPA.
Next I tried the stout (5.5%). Again no finings, which means you don't have to let it settle. In fact, while I was drinking the Best I watched them bring the stout barrel in and attach it.
I asked Alex for directions to the next bar on my list, and he asked if I'd ever been on a moped. It turned out to be a scooter, but I donned a helmet and got on the back and Alex drove me through the streets of Rome to the next bar.
The scooter journey ended at Che Siete Venuti a Fa (Via Benedetta), also know as the Football Pub.
Alex grabbed a beer and took me almost opposite to a bar called Bir & Fud, owned by the same people who owned the Football Pub. This bar literally opened the day before and had eight beers on, including three from Birra del Borgo (the bottled beer I has in L'Oasi), and it was being served by Leornado, the brewer. Rather than having a full beer from each, I had a taster beer of each.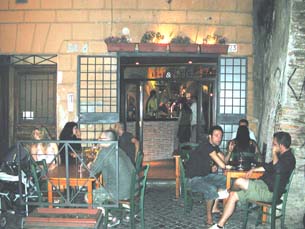 Bir & Fud
First was Del Borgo Cortianga, a 4.1% golden ale brewed with warrior hops, very citrus (or wuzzy as my friend Lawrence would say) tasting and very refreshing.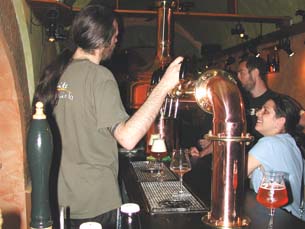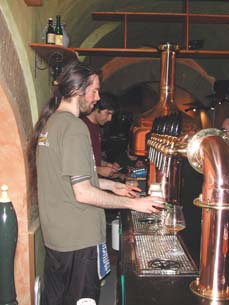 The bar at Bir & Fud
Second was Fleurette (4.6%) from Birrificio Italiano, a rose flavoured beer, followed by the other two from Del Borgo - Re Ale, a 6.5% cask conditioned IPA using cascade hops and the previously mentioned Re Porter at 5.2%. This uses golding hops and Leornado told me that Kentucky tobacco is added during the last two minutes of boiling to give it its unique flavour.
Beer number five was Shangri La from Birrificio Toll. This is an 8.5% Belgian style beer but made with a mix of Indian spices.
Beers six and seven were both from Birrificio Le Baladin. The Nora is a 5.5% slightly sour beer and the Isaac a 5.2% beer flavoured with corriander.
Finally, beer number eight was again from Birrificio Troll. This is a 10% dark beer that the bar describes as amber (they may have been right, I was quite drunk by then), and is made using chestnuts.
There was also a traditional English handpump, which I was told would be in use on Saturday night, so I planned to return, and give myself a chance to have a proper drink in the Football Pub. Alex also gave me a list of other bars to try.
Friday 22 June
I started Friday night at two pubs recommended by Alex, the first of which was Tree Folk's on Via Capo D'Africa. This is near the Colosseum and I had hoped to have lunch there, but it didn't open till 6pm. It is a small dark bar with ten draught keg beers, mostly from Germany but I did spot an Irish beer among them. There were no Italian beers. To the left of the bar was an English style handpump and the barman told me that they did serve English real ales during winter, from October onwards. Among those they had last winter were Robinsons Old Tom, Black Sheep and Hopback.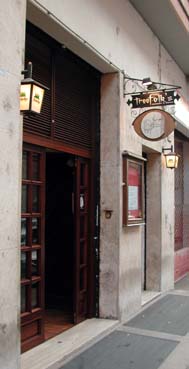 Tree Folk's
I opted for a German beer called Zwickel from the Allgauer Brauhaus. This came in at 5% and was a cloudy beer with a slightly sour taste.
The second bar of Friday night was Senza Fondo on Via Germanico. It has an inconspicuous entrance, easy to miss, which leads down some steps to a basement bar. I talked with the landlord Piero via the only other customer in the bar who did a sterling translation service while eating what looked like a ham and cheese toasty. I had one later, I can't remember what it was called but it soaked up the beer.
This bar specialises in Belgian beer and has seven on draught. I started with Duchesse De Bourgogne, for no other reason than I liked the label. It is a 6.2% Flemish sour ale, with a dark red colour. When they say sour, they really mean sour. It was nice to have a glass of, but I wouldn't fancy drinking it all night. The translator helped me with the tasting notes and told me it was matured for 18 months in an oak cask.
The second beer I tried was Blanchette de Lorraine from the Millevertus brewery. This was a 5% refreshing fruity beer made with three different malts and three different hops. We struggled a little bit with some of the ingredients. I recognised coriander in the tasting notes, and the translator spotted orange skin, but he struggled with purea di mirabelle. He thought it might be prunes, but wasn't sure.
My next target was a jazz pub mentioned in the Lonely Planet Guide, but it was shut, so I took a taxi to the Football Pub.
The first thing I saw when I entered the Football Pub (Via Benedetta) was Alex, now sporting an eye patch as a result of an accident with a grain of sand. As I mentioned earlier, I did pop my head round the door of this pub the previous night but this was my first proper session in there. As the name suggests, the bar is covered in football propaganda and I spotted three British teams with banners from Arsenal and Leeds United and a scarf from Hearts. There was also a scarf from Viktoria Zizkov, the Czech team I watched during my visit to Prague the previous month.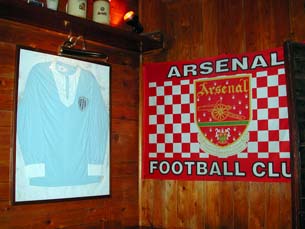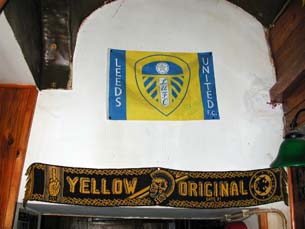 The bar had ten keg dispensers and one British style hand pump ready to serve Birra del Borgo Re Ale, but this wasn't ready yet.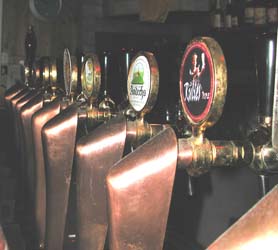 The bar at the Football Pub
My first drink was Tipopils from Birrificio Italiano. This is a 5.2% unfiltered pils with a back-of-the-throat bitter taste and a slight metallic aftertaste.
Next was a Belgian beer - Birra Belga Artigiunale at 6.2%, very hoppy, very bitter. I followed this with another Belgian beer - La Rulles Estivale at 5.2%. They describe this as a summer beer. The bitterness is not as noticeable as the previous beer, but is still there. It is a light brew made with American hops.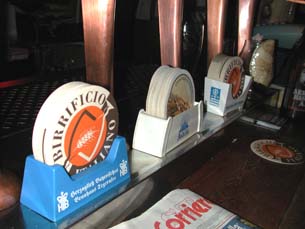 Beer mats at the Football Pub
The next two beers both came from Germany. First was Tegernsee Hell from the Herzogliches Brauhaus and described as a Chiara Speciale Ale. It was 4.8% and was a basic pilsner, not very inspiring. Much better was Wolferstetter Hefe Weizen at 5.5%. This was a classic German wheat beer. The barman said that it was meant to have slight banana taste, but I couldn't detect it.
A nice touch before I left, the barman gave me one of the bar's T-shirts. It has the name of the pub on the back and on the front "quanno moro vojo esse fermentato", which I was told means "I want to be fermented" but I had no luck translating it on Google.
Saturday 23 June
I started Saturday walking around a clothes market at San Giovanni before visiting Johnny's Off-Licence on Via Veio. Johnny is an Irish guy and the off licence has beers from all over the world including a selection of Italian beers. On Johnny's advice I picked a few to take back to the UK with me.
Determined to try a Rome tram, I plotted my way to Brasserie 4:20 Saturday night by getting a tube to Piramide, noting that there was a tram line running from there to end of the street where the bar was. And sure enough, there was a tram line with the promise that numbers 3 and 8 trams made the required journey. Now, on some tram lines, you also get buses with the same number following the route. A No 3 bus turned up, I let it go. Then another No 3 bus, which I also let go. No signs of any trams and time was passing, so when the third No 3 bus arrived, I decided I was destined not to use a Rome tram and caught it.
I was disappointed when arriving to see no cask attached to the handpump, but just for me they went out and brought in a White Dog Stout cask and put it on, just for my one pint. I also had a keg pint of White Dog Bitter, and then caught a taxi to Beer & Fud.
The taxi was a Smart car - never been in one of them before - and the journey was delayed because it got stuck behind a No 8 tram. Typical.
The first thing I discovered when I arrived at Bir & Fud was that they'd been reading my blog. Lol. The second thing I discovered was that the Re Ale was still not on handpump. "We've had problems," said Leanardo. I was, however, given the accurate translation of the T-shirt I was given the previous night. It actually says: "When I die, I would like to be fermented."
I spent the evening alternating between Bir & Fud and the Football Pub opposite, and they let me run one tab between the two bars - magic. I won't mention the beers I've talked about before, just the new one I tried starting with a German beer called Klosters Andechs on the pump and Andechser Klosterbiere on the beermat. It had a coffee flavour and was a darkish brown in colour, but not black. It tasted darker than it was and came in at 7%. The barman informed me that the beer is of a type called Doppel Bock.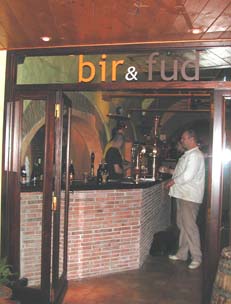 Bir & Fud
Next up was the 8.4% La Rulles Triple, a light coloured cloudy beer with a wheatbeer type taste.
I also had a bottled beer called La Petrognola at 5.5% brewed using spelt (farro). This comes from a small brewery that only does bottled beers. I brought a bottle back with me to add to the ones I bought at Johnny's.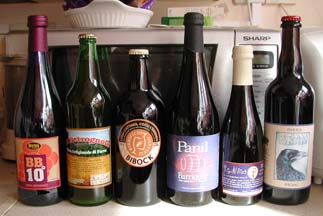 The beer I brought home with me. At the end of July, I took them round to a friend's house where they'd made Italian food ready for a beer tasting. After we'd polished off the Italian beer we then set about various Belgian and English beers. I feel a bit fuzzy the next morning.
Anyway, here's what I thought of the Italian beers:
1. Re Alina from Birra del Borgo 6.5%
This was the bottled version of a beer I'd tried while there. It was a bitter, fresh tasting beer.
2. La Petrognola 5.5%
This is a beer made with spelt and was liked by David, the miller at Green's Windmill in Sneinton; he also makes beer with spelt. It was a slightly cloudy beer, and very nice.
3. Bibock from Birrificio Italiano 6.2%
A lot sharper than the other two, and slightly citrussy. The blurb described it as a German style beer, but I found it more like a modern English beer. The blurb also advised drinkers not to play tennis the morning after.
4. Pamil Barriquee 8%
Described as an oak-aged red ale. This was very, very sour. It was a Belgian style beer brewed in Italy for export to the USA.
5. Bran from Birrificio Montegioca 8.5%
A dark beer, slightly sour.
6. BB10 from Barley 10%
When I bought this at Johnny's Off-Licence in Rome, Johnny told me it was the best beer in Italy. It is certainly one of the strongest, and came in a very pretty blue bottle. It was very perfumy, and very dark. We spotted liquorice and prunes among its many flavours. We drank it cold, but the bottle notes said that it could be served heated with cinnamon sprinkled on top.
Finally, a couple of odd pictures.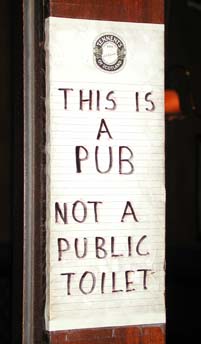 This sign was on a so-called Scottish pub that I chose not to enter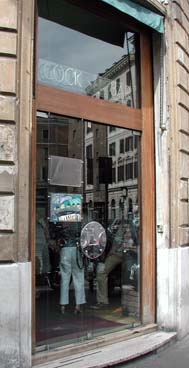 I did though have an afternoon drink at the amusingly named Cock Bar
Links to the other two pages of my pictures from Rome:
Colloseum, Palatine and statues

---