Taipei and Taichung, Taiwan, December 2009
In December 2009, I went on a work trip to Taiwan. This is an extract from my blog.
This was a busy schedule, arriving Monday evening and flying out Friday morning (at 6am, meaning I left the hotel about 3am - ugh). I was in Taipei Monday night, then off visiting companies Tuesday and staying in Taichung Tuesday and Wednesday night and then back to Taipei on Thursday. The schedule was pretty tight, so there was not a lot of sight-seeing time, but I managed to squeeze in a couple of bars.

30 November 2009
An uneventful flight via Hong Kong got me to Taipei this evening and, after a meal in one of the hotel restaurants, I went to a couple of bars I'd been to before - Jolly and Brass Monkey; you can read what they were like from my report last year.
The only difference was that Jolly's special this year was called Belgian Honey Beer (5.7%) and didn't taste as I was expecting from the name. This has a smooth upfront taste followed by a rough bitter finish. It was a hazy, medium red in colour.
My next problem is tomorrow morning. I was told that I would be informed of logistical details on my arrival, little things like what time I am being picked up from the hotel tomorrow morning, but no message at all. I know our first visit tomorrow is 9am, but I don't know if that company is round the corner or 100km away. I've emailed my contact in the UK but my only contacts over here I have work phone numbers, which are not much good this time of night.
1 December 2009
I got a message stuffed through my door over night telling me I was being picked up at 8.10am in the hotel lobby. Good job I was having trouble sleeping or I might not have noticed it.
The day involved visiting three companies in the Taipei area, the middle one of which gave us lunch which comprised pizza delivered from the local Pizza Hut, including one with octopus topping. This company also had this sign, and I still don't know how to follow instruction B.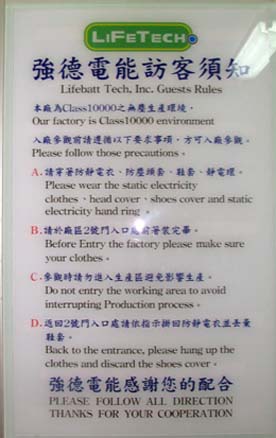 The visits were followed by a two hour drive to Taichung, where we will be staying for two days. On the coach journey, we stopped off at a service station and our guide challenged us to win something on one of the fairground style grabbing machines, and I succeeded - a little solar powered doll. All that practice with Rita at Cult TVs in the past paying off.
There are only three other journalists on the trip, one each from India, Japan and the USA. The Japanese journalist speaks no English or Chinese and has a translator with him who translates into Chinese, which means I know very little about him. The Indian journalist seems a bit pushy, but the American guy seems OK.
The woman looking after us took the journalists out for a meal in the evening - all bar the Indian journalist who decided not to come. We went to a very nice Chinese restaurant on the fifth (I think) floor of the Japanese Shinkong Department Store. She told us to order what we liked from the menu and seemed a little put out when the American journalist and I both ordered beer. She tried unsuccessfully to convince us to have one bottle between us. The beer was nothing special - Taiwan Beer from TTL. I mentioned that beer in my report last year.
The report also mentioned the Le Ble D'Or bars in Taipei. Well, they now have two bars in Taichung as well, so after the meal I went out to find them. I got a little lost and asked for directions in what I thought was a hotel but seemed to be something a little more seedy when I went in. I got my directions though.
The one at 20 Shijang Road is a large beer hall with giant copper kettles for show behind the bar (the beer is actually brewed just outside Taipei). Wooden barrels are also used for decoration. There are four darts boards on the back wall and internet terminals on some of the tables. As I'd tried their regular beers before, I opted for the seasonal 4.5% Logan Honey Lager, which was OK. The other seasonal beers when on are Oolong Tea Lager and Valley Orange Ale.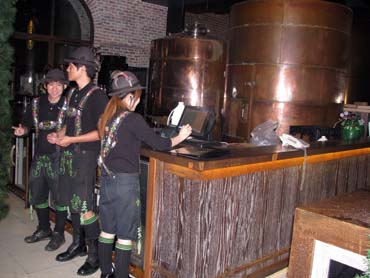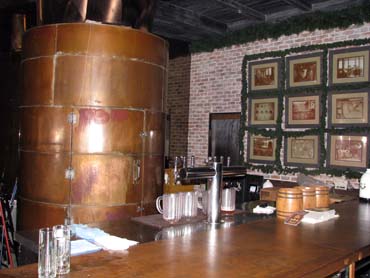 Afterwards, I took a taxi to the other Le Ble D'Or, this one at 68 Gongyi Road and, like one of the ones in Taipei, is in the basement of an Eslite Department Store. This was slightly more modern looking, and unlike the other one you can sit at the bar, albeit on posh white cushioned stools. I went for the 5% Dunkel this time.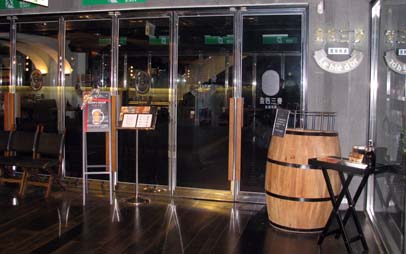 2 December 2009
The daytime today was as expected. We had four companies to visit, and we did, the two in the afternoon being quite relevant to the what-I-am-writing point of view. We had lunch at a very nice Chinese restaurant. I took this photo at one of the companies - I always enjoy snapping signs such as this: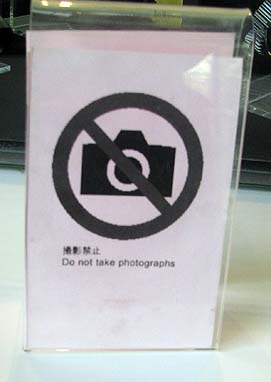 This evening, Mavis - the government woman who is our guide - took Terry (the US journalist), the Japanese journalist and myself out for a meal. The venue was a Cha For Tea chain restaurant that is alcohol free. Terry and I couldn't help but wonder if there was any connection to her obvious displeasure at us ordering a beer at the Chinese restaurant the night before.
Nevertheless, we had a nice meal and celebrated Terry's birthday. The hotel had given him a cake (this happened to me in a Taiwan hotel a couple of years ago - they get your birth date when you check in). The restaurant was quite happy for us to eat the cake after the meal and even provided a candle for us.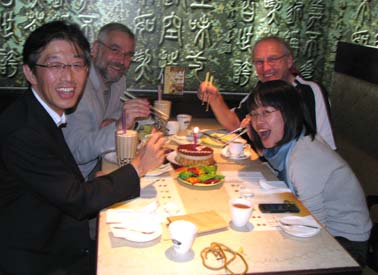 After the meal, Terry and I headed for the Fengchai night market. This is Taichung's largest night market and it undoubtedly was big. We walked around for quite a while and were sure we'd only seen a small part of it. The snag though was it was quite dull. We saw nothing really interesting on sale and the prices were reasonable but not cheap.
We thus took a cab to the canal district area near the hotel and asked the cab driver if he knew any bars. We ended up in a Japanese bar (the name of which was not obvious) next to the canal and just round the corner from our hotel - the Splendour Hotel. We had a bottle of Asahi each and were the only customers. While there, a delivery of Asahi beer arrived and we were amazed at how many boxes were being taken upstairs; the bar was not that big and even if it was packed every night it would take them a few months to get through that lot.
For a night cap, we both took advantage of the free drink token we were given at the hotel when we checked in - this resulted in a bottle of TTL Taiwan Beer at the hotel bar.
3 December 2009
Thursday was the last day, and we started with a couple of company visits, the second being at a company that makes parts for racing cars and also has its own racing team called D2 Racing, so we had a bit of fun having group pictures taken with one of their cars.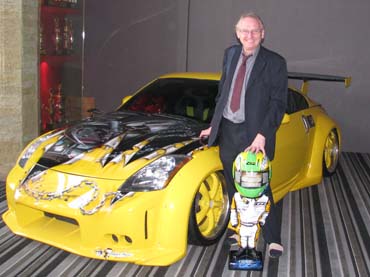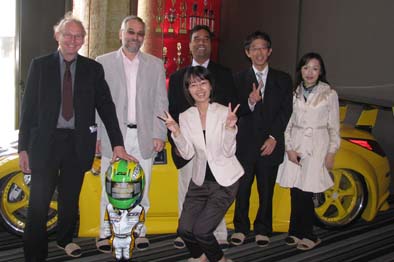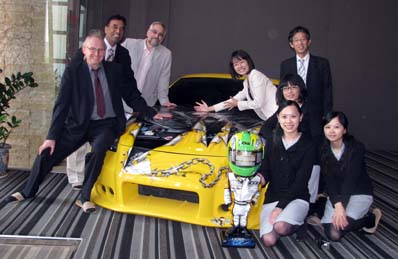 The afternoon was reserved for a sight-seeing tour round Lukang. I'd been there before, but it was still enjoyable. I even bought a CD of the music they were playing at the temple. Here are some pictures taken during this tour: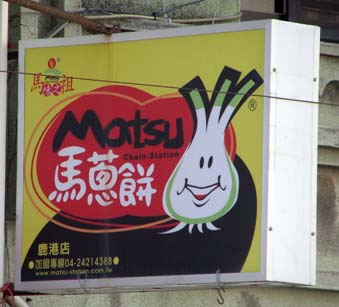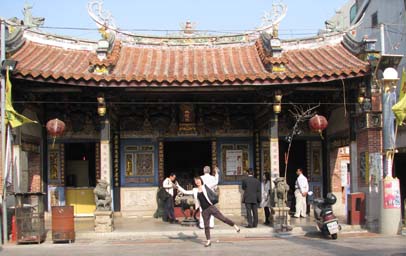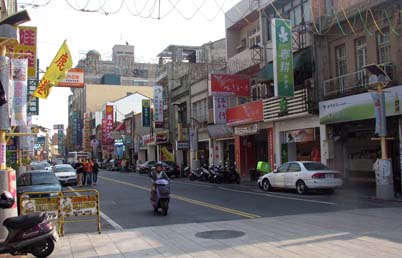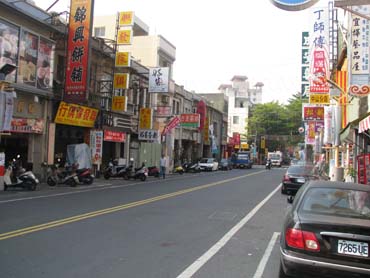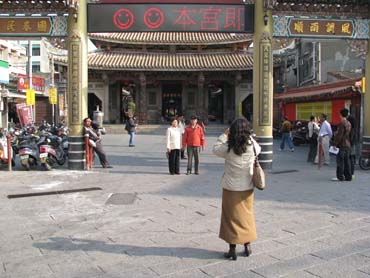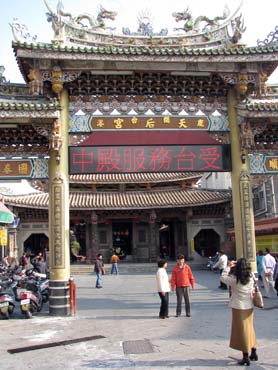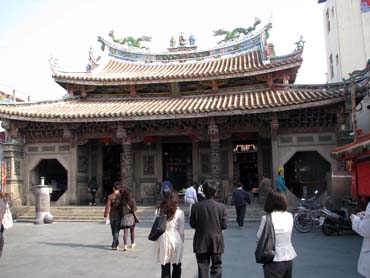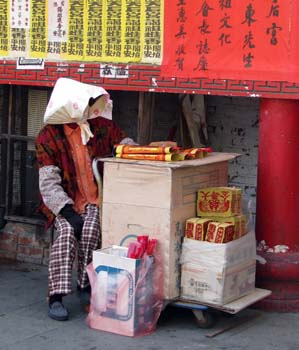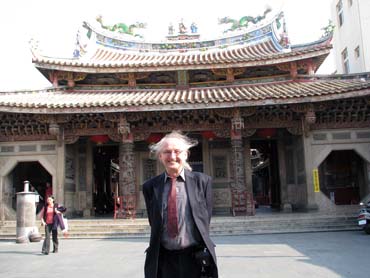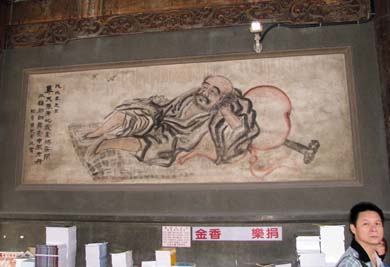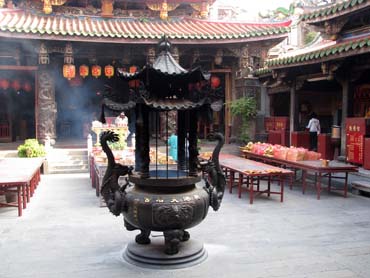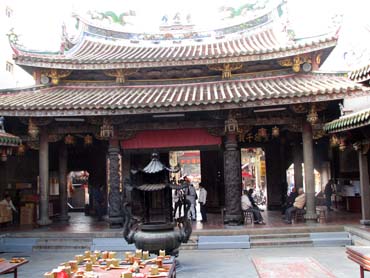 During lunch, I found why Mavis was so reluctant to let us have a beer with our meals. She is not allowed to claim these back on expenses so she has to ask them to include them as soft drinks on the bill, which can cause problems.
After the two and a half hour coach journey back to Taipei, I just chilled in my hotel room for a bit before taking a cab to the Shilin night market. While walking around I spotted a cafe selling a beer I hadn't come across. This was from TTL, who as I've said before make fairly bland lagers. This one looked potentially better though. It is a bottled beer called Taiwan Beer Strong Black, and comes in at 7% abv. I brought a bottle back with me to sample later, and it is not bad, certainly the best I've tasted from that brewery.
Afterwards, I had a drink at Jolly and then went for another drink at Brass Monkey, but I'd forgot Thursday night is ladies night, and it was packed, so I just had one and headed back for the hotel. I'm fairly sure that ladies night as they do it would be illegal in many countries. On said night, women get free drinks from 9pm till midnight. Men have to pay an entrance fee, but that is redeemable against their first drink at the bar.
4 December 2009
I had a drink in the hotel bar and then went back to my room to pack ready for the taxi to pick me up at 3am to take me to the airport in time for my 6.15am flight. Ugh!
I made it back to England without incident and even slept for a good part of the plane journey. The bad news I discovered when I unpacked was that I left my black shoulder bag in the hotel room, which contains some of the info I picked up from the last two companies we visited. I emailed the hotel and my contact at the Taiwan government to see if it was recoverable, but it had gone missing.

---